Submitted by James on Mon, 08/21/2006 - 9:30am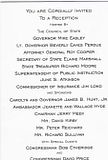 Click on the picture and take a look at the list Council of State members who are throwing a shindig for Heath Shuler in Raleigh on September 11. It'll cost you a pretty $250 just to get in the door, and $1000 to sponsor the event.

I'm happy that the Council of State has finally awakened to the fact that there is a congressional seat up for grabs in the mountains, but I wonder why they can't chew gum and walk at the same time. Because unless I've been in the Twilight Zone, there's another seat up for grabs too.

As Robert wrote on this thread, the NC Dem leadership is . . .
running from the progressive agenda, what pisses me off the most is that they are so f**king cowed by the Republicans that they believe they can only win one race.

Get some damn balls and shoot for three races. Let the press hear that we ARE going to win TWO and we're looking for an upset in a third district. The way it is now, they are marginalizing the close Kissell race.
I agree with Robert's sentiments 100 percent, and I'm going to call Ms. Andrea Bell (919 821 4948) to whom I was asked to RSVP with the following message:
Thanks for the invitation to support Heath Shuler. I'm glad the Council of State is finally getting involved. But I'm very disappointed that you're going to all this trouble and ignoring Larry Kissell's campaign. Do you have plans for doing the same kind of event for Larry? Because if you don't, you can count me out.
Tweet