Richard Morgan released a copy of his Federal Grand Jury subpoena today. There is an AP story out right now such as this one at the Durham Herald Sun. I'm not sure where they are going with this but the subpoena states that documents may be furnished to the IRS prior to the Grand Jury 11/15/06-11/16/06. It names 37 "Relevant Parties" and requests documents related to transactions with these "Relevant Parties" and copies of State and Federal tax returns 2002 through 2005. The subpoena also requests financial account information and photographs, videotapes and/or tape-recordings of any of the "Relevant Parties".
It looks like they are taking a money laundering angle. For anyone who wants a peek at the actual documents take a look below:        ( read more below the fold.....)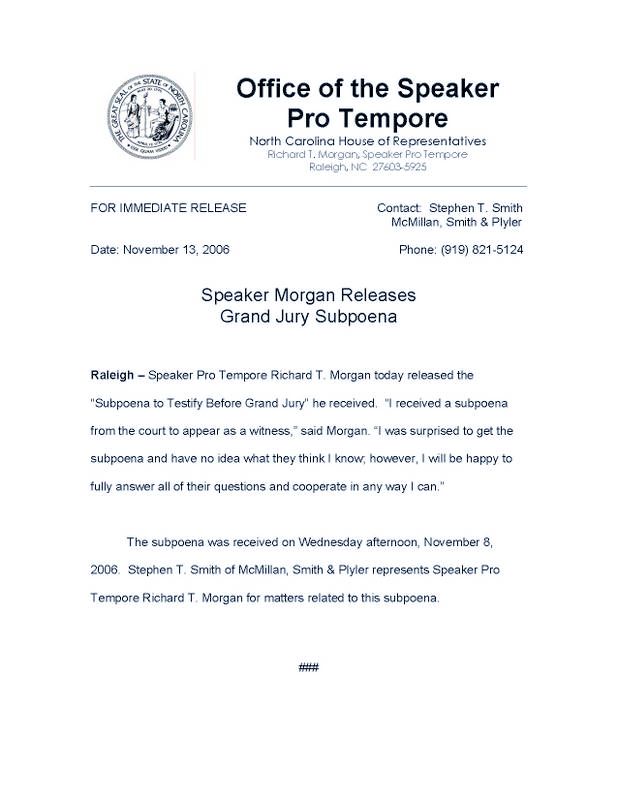 Page 2   Actual Subpoena
Page 3   Attachment 1/3 requesting documents
Page 4   Attachment 2/3 requesting documents
Page 5   Attachment 3/3 requesting documents
Page 6   Standard information for witnesses 1/2
Page 7   Standard information for witnesses 2/2
The "Relevant Parties" are:
Automated Wagering
Betty Bailey
Malcolm Bailey
Steven Bailey
Slim Baucomb
Jim Black
Jon Black
Black Pest Control
Jim Black Committee
Zadia Brown
Bill Culpepper
A David Davis
Mike Decker
Mike Decker for State House
Michael Decker Jr
Barry Green
Bobby Huckabee
Rita Harris
Virginia Kelly
Meredith Norris
Norris Corporation
NC Amusement Machine Assoc.
NC Amusement Machine Assoc. PAC
Office of House Speaker Jim Black
John Rabenold
Julie Robinson
Barry Sandman
S&M Brands
Update: The Raleigh News & Observer also has a story about this and has posted the full subpoena PDF. There are lottery, video poker, strip club and payday loan connections and huge chunks of tobacco money. Sounds like at least one part of a TV mini-series.