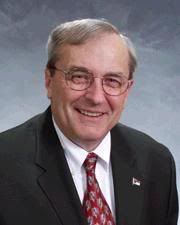 Over at West and Center ("taking moderation to new extremes"), sw posts an email from Rep. Ray Rapp to his constituents. Here are some excerpts, but go read the whole thing if you get a mind to because there's a lot more info to be read:
"Much attention is now focused on the person to be picked as the Speaker of the House. Candidates include current Speaker Jim Black, Representatives Drew Saunders, Joe Hackney, Hugh Holliman, Jim Crawford, Becky Carney and former Speaker Dan Blue."
[...]
"HOUSE SELECT COMMITTEE ON HEALTH CARE
...continuation of the cap on the county share of Medicaid at the FY 2005-06 level "until a methodology for eliminating all of the county share of Medicaid is identified and funded."
[...]
"MOUNTAIN RIDGE AND STEEP SLOPE PROTECTION
I asked the group [Land of Sky Regional Council] for specific recommendations by March 1 so that they can be included in legislation I plan to submit to the Legislature in the upcoming session. The bill is intended to address public safety (landslides, emergency response), public health (water, wastewater disposal, air quality); water quality (erosion sedimentation, stormwater pollution) impact on wildlife, viewsheds, and economic development."
[...]
"HIGH SCHOOL GRADUATION AND DROP OUT RATES
...the Committee is conducting its next public hearing at the EDUCATION CENTER IN CLYDE on WEDNESDAY, DECEMBER 13 at 10:00 a.m."
[...]
"PIONEERS IN WIND POWER
I expressed the hope that this wind turbine project will encourage others to build on the dream of abundant electricity that is good for the environment and available to everyone."
Like I said, there's a lot more at West and Center.