I have spent most of my past diaries on the topic of Elizabeth Dole in one form of another. The most common question that people have asked me is, who is going to run against her? Well, I decided to compile all the possible choices, and see what sort of rumors we could get started. The simple fact is that we need a challenger. And, we need that challenger to have raised a ton of cash by the end of this year. So, lets take a look at the possibilities.
Let me start off by saying that we will beat Elizabeth Dole. She is being watched by groups across the country, who will jump in once she has a challenger. More importantly, she is below 50% in the polls, with painful approval rates. She supports the president's war in a state with shrinking support for Bush's failures. Additionally, at the end of 2006 she had less than $250,000 cash on hand, making her fundraising a big question mark for the first time.
We just have to get someone to run.
Mike Easley
Mike Easley is the current Governor, first elected to office in 2000. He can not run again in 2008 because of term limit requirement (but could run again in 2012). Easley's biggest policy initiatives focus on education, business and law enforcement. He is a former prosecutor and Attorney General. His stance on business issues has gotten him a lot of Republican votes and friends, but his education programs have been just plain amazing.
He is the only target for the DSCC as of now, but he has said 'no' many times. Ultimately, his refusal to run is based upon him not wanting to be a legislator. Current speculation puts him on a list of potential VP candidates, but I put those chances at slim to none. It is much more likely that he would be appointed AG or given a cabinet post in a Democratic White House. He leads Dole in polling, and could raise enough money to beat her. However, he seems uninterested in running, and is often seen as being reclusive. It is hard to beat the charming (if two-tounged) Dole if you are never seen in public.
Elaine Marshall
Elaine Marhall is the current Secretary of State. She is highly respected, and has already won statewide office as a Democrat. I have yet to see any polling including her name, but I would not be surprised to see her as the best positioned Democrat not named Mike Easley right now.
Being a woman will help cut into Dole's "crossover appeal". However, my concern about Elaine Marshall is whether she would be able to raise the necessary funds. Additionally she has already taken one shot at this seat, running in a crowded primary field in 2002. She only managed to garner about 15% of the vote in that primary, far behind both Erskine Bowles and Dan Blue. Frankly, I doubt that she is interested in running.
Brad Miller
Brad Miller is a member of the US House. He is most likely known to everyone on this site, considering his great relationship with bloggers. I could go on about him, but it is easier to just point you towards his tag and his diary list. Although I started the Draft Brad Miller movement on BlueNC and here (full disclosure) I am increasingly doubtful that he will be leaving the house anytime soon. However, there is still hope, and he has not said no. He has only said that he is busy actually doing work in congress, and has not thought about it.
I believe that Rep Miller would be a great choice against Elizabeth Dole. His seat would be as easy to protect as any open seat could be. Additionally, he is a strong progressive, but one with a background and qualities that could appeal to many in North Carolina. His fundraising would be greatly aided by the fact that he is already in congress.
Bob Etheridge
Bob Etheridge is a US House Member, and has been for a long time. He is fairly conservative, representing a district with a large amount of farm land. However, he is far from a DINO, and is a strong member of the caucus. I would honestly be shocked to ever see a strong challenge to him from either side of the aisle in this district. Having said that, I find it doubtful that we would be able to protect the seat if he left. A recent poll shows him far behind Dole, but it is not an insurmountable lead, and mostly is a result of his lack of name id statewide. He would be able to raise the necessary funds rather easily. However, he has a lot of seniority built up, and seems more than occupied in the House. He has said multiple times that he is not interested in running.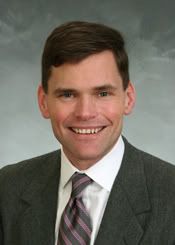 Grier Martin
Grier Martin is a relative newcomer to politics. He is 37, and was first elected to the NC House in 2004. There are two very important details though. First, in 2004 he won a very expensive race against an incumbent with a large amount of personal income in a district that leans Republican. A huge upset. Just as importantly, he actually has name ID across the state, due to the fact that his father, DG Martin was the Attorney General for many years. He has also taken some interesting stands in the legislature, including voting against the budget one year and voting against the creation of a lottery. Additionally, he has military credentials. After 9/11 he volunteered for the Army, and spent 2003 in Afghanistan.
His name has been mentioned in the rumor mill as someone contemplating a run. To be honest, after Brad Miller, he is my top choice. He has a gorgeous family, including a young daughter. His age puts him square into the only age bracket that showed support for Dole in the last poll. And, he is the type of candidate that has a background that would allow him to take progressive positions without being called a no good dirty, Washington, liberal.
Kay Hagan
Kay Hagan is a member of the NC Senate. I admit, I know less about her than anyone else mentioned. She is a woman of power in the legislature, having been an appropriations chair for a number of years. Although her name ID across the state is small, she is a mainstream Democrat with an ability to raise a lot of money from sources within the state. She would have the added benefit of being a woman challenger to Liddy Dole, helping to avoid erosion of the advantage we have in the gender gap. I do not think that she will run, but her name has been mentioned in the rumor mill, and a run by her would make sense.

Dean Smith
Dean Smith is the only non elected official I have included on this list. Coach Smith is famous for being the head basketball coach at UNC for a long time. As such, he already has massive name recognition. What most people do not know about him is that he is an incredible Democrat. He has not only given large sums to Democratic Candidates, he has headlined fundraisers, and helped start up the Devout Democrats movement, which is aimed to counter the lie that all Christians are Republicans.
Although the chance that he would run is slim, he would not only be able to self finance a large chunk of the campaign, he would be able to raise both funds and support from both sides of the aisle. Personally, it would be a little painful to see the face of UNC as our only hope, but this Wolfpack fan could deal with it. School Pride is a small thing to swallow when trying to get rid of Dole.
Out of nowhere rich guy. It is unlikely, but more than possible that someone like Ned Lamont could come out of nowhere to challenge Dole. Although it is often said that experience is important, and Dole has a ton of experience in government, this state loves amateurs. Many of our past elected Senators have been those with little to no experience, whether it is a rich farmer or a rich lawyer. Additionally, the last incumbent to get reelected to the Senate in this state was Jesse Helms in 1990 and 1996. We have a record of voting out incumbents.
With no "big names" jumping in, the field would seem to be ripe for a newcomer to politics.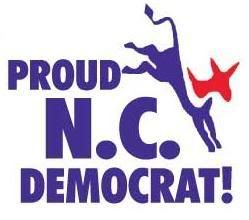 People who I do not think will run no matter what include some who are often asked about in the comments of other diaries I have done. Richard Moore and Bev Perdue are running for governor, no matter what it would seem. Roy Cooper, in his decleration that he would not be running for governor, declared he would be seeking reelection for Attorney General. Erskine Bowles is almost certainly done after 2 shots at Senate. Especially given his current job, President of the UNC System. Also, people outside the state often ask about either Larry Kissell or John Edwards. Even if Edwards doesnt win the nomination, the filing deadline for this seat will probably be the first two weeks of February. I expect the field to have at least 5 candidates still at that point, so anything that would knock him out before then would knock him out of public life. In Larry's case, he is gearing up for another run at Hayes. He is still in a ton of debt (60,000 plus last I heard), which you can help with here.
The only question now is who will run. I hope that you will sweeten the pot a little, by taking a look at ActBlue.