I am happy and honored to announce that our Democratic candidates for governor will join us on Monday, March 31, at 7:45 pm, for the first online gubernatorial debate in North Carolina history. My deepest thanks to both candidates and their very busy campaign staffs, for working with us to make this event happen. In keeping with our commitment to transparency, here is the proposal that has been accepted by both campaigns. Now we need your help to make it happen. As you'll see below, your first job is to load up the questions.
Hello!

We're very excited that both campaigns have agreed to participate in the BlueNC Democratic Gubernatorial Debate on March 31 at 7:45 pm. This email outlines our plans for the days leading up to the debate, and for the hour-long session itself. We are eager to provide an opportunity for as many people as possible to engage with the candidates, and we are also mindful of the need to deliver a responsible and respectful forum. Our plans are designed to balance all these considerations.

* On Wednesday, March 26, we will create a "Questions" thread for community members to post whatever questions and/or comments they wish. The BlueNC frontpagers will moderate the thread to ensure the questions are respectful and in line with our expectations for fairness. That thread will remain open through the evening of the debate so that both campaigns can see what questioners have on their minds. (Note: that's this thread.)

* On Sunday, March 30, the BlueNC frontpagers will identify four topics that seem especially worthy of debate, based on the questions posted. We will share those topics in general terms with both campaigns no later than 6:00 pm on Sunday, and will also post them on a new pre-debate thread.

* At 7:30 pm on Monday, March 31, we will open two new threads on the front page. First, we will have side by side features at the top of the front page in the green boxes. We'll flip a coin to see who gets the left column and who gets the right column. The "green" box will include a picture of the candidate (please send us the picture you wish for us to use), a note of welcome, a link to the candidate's main campaign web site, and a link to the candidate's debate thread.

* Below the green boxes on the front page will be the two main Q&A threads for the debate. Candidate Richard Moore Debate Thread and Candidate Bev Perdue Debate Thread. The top thread will be for the candidate who is featured the right-hand green box. The second thread will be for the candidate in the left-hand green box.

* At 7:45 we will welcome both candidates and post the first question simultaneously on both threads. Our frontpagers will be monitoring both threads carefully. We will delete inappropriate comments and questions immediately without explanation (they will simply disappear). We will post the second, third and fourth questions at 8:00, 8:15 and 8:30 respectively. At 8:45 we will post a thank you comment and officially end the debate.

* During the debate, you are free to handle questions in any way you see fit. You can respond with prepackaged content, you can respond to individual follow-up comments and questions from readers, you can post questions or comments on the other candidate's thread, and your surrogates/staffers are welcome to engage as much or as little as you wish. Again, we will monitor questions and comments to make sure the discussion stays focused, and to weed out inappropriate behavior.

* When the debate is over, we will open a Spin Zone thread at the top of the front page for further discussion. We will also leave the debate threads open as well, continuing to monitor for appropriateness. It is our expectation that discussion will continue on all fronts.

* We fully expect there to be a "long tail" of questions and comments for days after the debate. You are free to handle those questions in any way you prefer. We will be clear with readers, however, that you have not agreed to follow or participate in that ongoing discussion.

Again, we are very excited about this opportunity for you to interact directly with the thousands of readers who visit BlueNC every week. We have fine-tuned our technology platform, and have our hosting service on stand-by for whatever support may be necessary. We are committed to ensuring that things run smoothly and fairly.

As soon as we get your confirmation that these plans suit you, we will post this "Plan of Action" online so our readers know the debate is scheduled - and what our expectations are for community participation. Thank you for your willingness to join us.

Sincerely,

James Protzman and Betsy Muse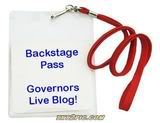 Pretty cool, heh?
This is your questions thread, your chance to let the candidates know what's on your mind in advance of their debate next Monday.
Pile on.