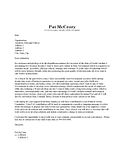 I'm steamed and you should be too. Pat McCrory's letter to raise PAC money - a close up view of political sausage making if there ever was one - is being mostly ignored. By the media, and by conservatives who say they value small-d democracy.
In case you haven't seen it, the letter closes in a pretty amazing fashion:
I welcome the opportunity to meet with you or your company representatives at your convenience.

Sincerely,

Pat McCrory

_______________

cc:

Lobbyist
Lobbyist 2
Have you ever seen a more grotesque display of how corporate influence works?