Pam of Pam's House Blend and Matt Hill Comer over at Interstate Q each have pointed posts about bigots wearing the robes of cultural conservatism.
Matt has earned the ire of UNCG College Christorepublican, Jason Crawford, who writes,

"However embarrassing it is for me to have to mention Matt by name - and it is - it does not compare to the humiliation he will endure when he discovers his activist lifestyle has been predicated upon an elaborate web of self-deception. No one should think I have unfairly singled him out. Matt is every bit as zealously aligned with the homosexual movement now as I was with the conservative movement three years ago. And whenever a man prostitutes his soul for a man-made cause, particularly an immoral one, true love demands somebody get in his face."
This 'hate to love' strategy is also on display in the General Assembly as our lawmakers again attempt to enshrine division in the NC Constitution. S.B. 13 was filed Thursday:
"Marriage is the union of one man and one woman at one time. This is the only marriage that shall be recognized as valid in this State."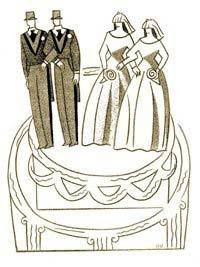 On the subject of Jason Crawford's attack on Matt Hill Comer, Pam writes,

"Can these people ever defend their prejudice, bigotry and support of attempts to deny LGBT citizens rights on secular grounds at all? It's so weak, tired and inappropriate when we are talking about civil rights of tax-paying citizens."
And it is in this context of denying people civil rights based on covert religious agendas that Pam writes,

"Yes, it's that time of year again. A group of scared, middle-aged white men (and this year, one woman) is so threatened by my relationship with Kate that they've gone back to the drawing board to write discrimination into our state constitution."
[...]
"It's all or nothing folks, because if they truly believe this is the case, then I want the right to vote on the marriages of the rest of me fellow neighbors and a whole host of other rights, including placing some restrictions on religious fundamentalism. But the answer to this question should be "no." The civil rights of a minority of people should never be determined by the majority."
Go read Pam and Matt for news from the front lines of the civil rights battle.