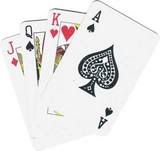 When Larry Kissell conceded to Flipper Hayes last week, he also announced that he is running for Congress again in 2008.
In the Democratic race for Lieutenant Governor, we've already seen two candidates. One of them, is Pat Smathers who announced here at BlueNC. Another is Hampton Dellinger, who we haven't yet heard from. Both have officially announced.
In the governor's race, it's clearly coming down to Beverly Perdue and Richard Moore, though I don't think either has officially 'announced.'
The Democratic race for US Senate against Liddy Dole (I hope) is an open field with no one having announced anything yet.
~~~~~~~~~~~~~~~~~~~
So answer me this: Is it generally a good idea or a bad idea to announce early? I lean toward 'good' because I generally like transparency. As one of my mentors once said, "I only know how to play the game one way: with all my cards face up on the table."
I like knowing where people stand and what they're committed to. Which might be why I suck at politics.