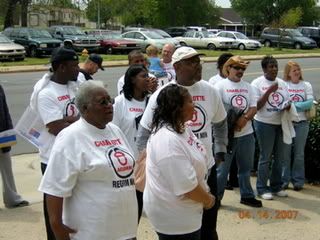 North Carolina needs a state earned income tax credit. Our low income working families bear a larger local tax burden as a percentage of income than our wealthy residents. A state earned income tax credit would help ease this burden and return money to our working families that they in turn would put back into our economy. A rally Saturday in Charlotte kicked off an effort by ACORN and Working Families Win to fight for a state earned income tax credit.
According to a BTC Brief by the NC Justice Center:

Low-income North Carolina workers pay a greater share of their income in state and local taxes than any other group. In 2003, after adjusting for the federal offset, the bottom 20 percent of North Carolina taxpayers paid 10.9 percent of their incomes in state and local taxes while the top 1 percent of taxpayers paid only 6.3 percent.
Please follow below the fold....
Take into consideration these facts, also from the NC Justice Center:
About one in every five North Carolina workers earns low wages and the number of low-income workers increased by 8.6% from 2000 to 2003.
Wages of low-earning North Carolina workers increased by only $.88 per hour between the period of 1979 to 2003. That is only a 12% increase in 24 years.
Almost 23% of all jobs in North Carolina do not pay enough to lift a family of four out of poverty.
Most of us are familiar with the federal earned income tax credit. According to the Center for American Progress:

The EITC is "a refundable federal income tax credit for low-income working individuals and families," originally approved in 1975 to offset taxes on the poor and provide incentives to work. Since then, it has been called "the nation's most effective antipoverty program for working families," as it helped lift "more than four million people above the official poverty line" last year.
The earned income tax credit has usually received bi-partisan support. To claim the credit an individual must have earned income. The credit is much larger if the filer has children. This is a refundable credit, so if it isn't offset by taxes owed, the individual or family receives the credit as a refund.
The EITC not only rewards work, it literally lifts families out of poverty. Many of the families who qualify for the credit are at the poverty line. This credit is the difference between living below the poverty line or slightly above it for many families.
Obviously, our low income working families benefit by having more of their hard earned income returned to them. As Niksa Grier of Working Families Win said at the rally on Saturday, these families turn around and spend that money on the things they need to survive. The money is returned to the community. It supports the local economy.
Mecklenburg County alone would see $10 million returned to its working families through a state earned income tax credit. With a state EITC set at 10% that means about $134 million returned to working poor across the state.
State Rep. Tricia Cotham said there was nothing for her to consider when asked if she would support this issue. She was adamant in her support for the state EITC and the families it would help lift out of poverty. State Senator Charlie Dannelly joined her in supporting the issue and said that House Bill 51 is attempting to accomplish this objective.
Even with bipartisan support, the federal EITC has been threatened by the Bush administration's tax cuts. According to the Center for American Progress:

Bush's 2001 tax plan cut marriage taxes across the board, except for within the EITC, causing "half of low-income married couples to have lower benefits." The EITC is also unnecessarily complex for lower-income Americans, as more than 70 percent of filers rely on paying commercial tax preparers.
With Democrats now controlling the House there is hope that something can be done to correct the damage Bush has caused the federal EITC. ACORN is already doing something about the complexity of filing taxes.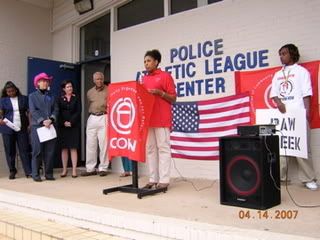 ACORN, the Association of Community Organizations for Reform Now, has established free tax preparation sites. These sites were established to help low income families avoid the high fees associated with professional tax preparation. Saturday's rally was held at one of these sites, the Police Athletic League of Charlotte. Benita Little, executive director of PAL, said she was honored that ACORN chose PAL as a site for the tax preparation service.
A state earned income tax credit is not a panacea. It is a small step toward a more progressive tax code in this state, but it is an important step to take.