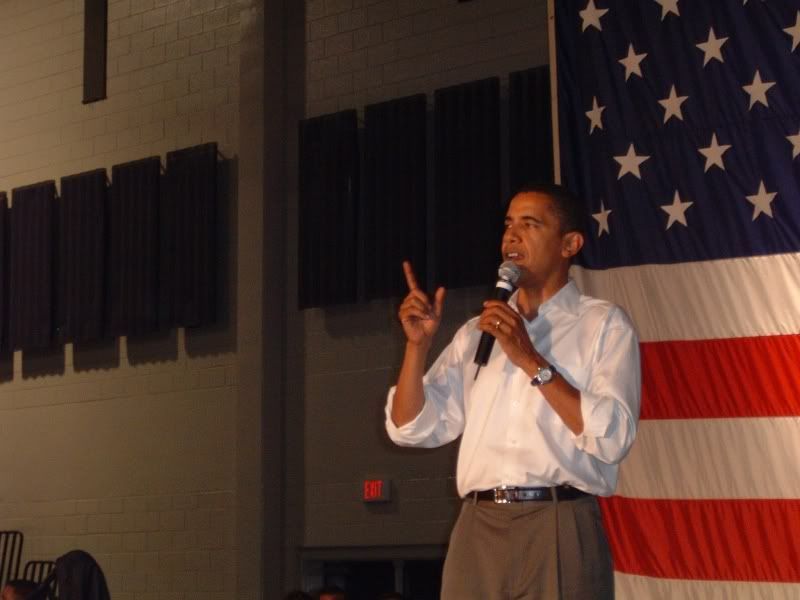 (click on pictures to enlarge them.)
I had the pleasure of attending a big spirited rally for Barack Obama in Rock Hill, SC yesterday. I thought you might like to read a report on the event.
The Gym of the Northwestern High School in Rock Hill was packed to the brim with over 2000 supporters.
I was surprised to see a very diverse crowd there (I had expected a predominantly African American group), from disabled veterans to young teenagers, from black to white, young and old.
The doors opened up at 6.45 pm and Senator Obama took the stage at 7.45. He spoke for a little more than an hour. He was introduced by Congressman John Spratt after the local marching band played a few tunes.
Obama spoke in front of a rowdy crowd in Rock Hill, receiving loud applause at points in his speech.
"The reason you're here, let's face it, is that you're sick and tired of George Bush," he said.
Obama's speech emphasized hope for the future and the need for substantial political change.
He spent quite some time in his speech defending himself from the critics that are saying he "doesn't have enough experience" and "doesn't know how to play the game in Washington".
In an obvious swipe at fellow contender Hillary Clinton he stated: "We don't need somebody who knows how to play the game better, we need somebody to put an end to the game playing and change the game".
Naturally, there was a lot of talk about the war in Iraq.
Obama harshly criticized President Bush for pursuing what he called, "a war of passion, not of reason". Obama was always against this war and has consistently voted against it.
He pledged to call the Joint Chiefs of Staff of the Armed Forces to the White House the day after he gets sworn in to start pulling our troops back.
He received an equally loud response when he proposed increasing the minimum wage every year and criticized the No Child Left Behind education program.
Other highlights of His speech talked about raising vehicle emissions standards to decrease dependency on foreign oil and providing health care to all Americans.
Obama also touted the need for open government and pledged to be honest about where he stands on issues and what his plans are.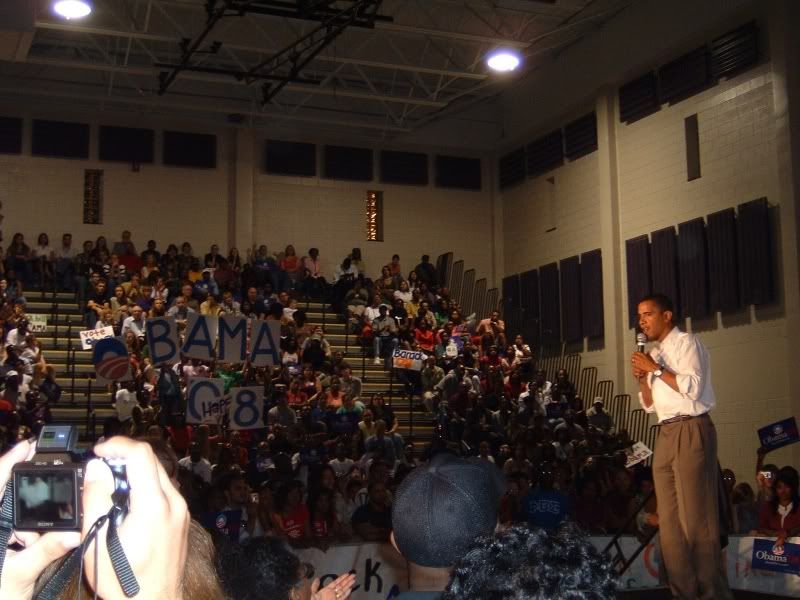 He ended his speech by having the crowd chant "fired up" and "ready to go" and concluded with a marching order: "Let's go change the world."
I left being thoroughly impressed with a man that just radiates charisma and really seems to mean what he says.
He's got my vote.
If you'd like to look at some more pictures I took yesterday, you can find them here, here, here and here.