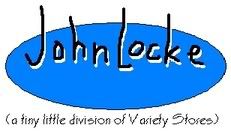 If there ever was an example of the insanity that passes for commentary at the John Locke Foundation it is this entry by "Dr" Michael Sanera at the Lockerroom: The taxpayers pay for this nonsense about an article at Townhall by UNCW Professor Mike Adams on a "new scholarly journal", The Journal of Genetic Rationalization
What Sanera fails to acknowledge is that this is a satirical article, as can be realized from the opening sentence:

The University of North Carolina - Wishful Thinking (UNCW) has announced the establishment of a new journal called The Journal of Genetic Rationalization.
Sanera writes, with no hint of irony:

Just when I thought the crazy antics of university faculty could not possibly get worse, UNCW Professor Mike Adams reports on establishment of a new scholarly journal, The Journal of Genetic Rationalization. In his article, he prints the table of contents from the first issue.
:::::
I better double check the calendar. Yes, it is February 1st not April 1st.
Sanera even underlines one sentence:

This conclusion is not based on scientific evidence.
Dear "Dr" Sanera:

This article is not based on reality.
Trying to seduce headline readers into a frenzy of antidisestablishmentarianism may improve internal stats but it underlines the incredibility of the Locke Box.