When I give people my own version of the Jim Neal elevator pitch, it begins like this:
"What I like about Jim Neal is that he's got guts. These are tough times and with Jim as our Senator, we won't have to worry that he'll be afraid to talk tough when the moment calls for it."
I've been fortunate to be there with a camera at least twice when Jim Neal has done just that. I've heard him say "Hell no!" to Blackwater and yesterday I saw him stand up to an old Democratic warhorse and remind James Carville that "We have primaries here in North Carolina, James...not coronations."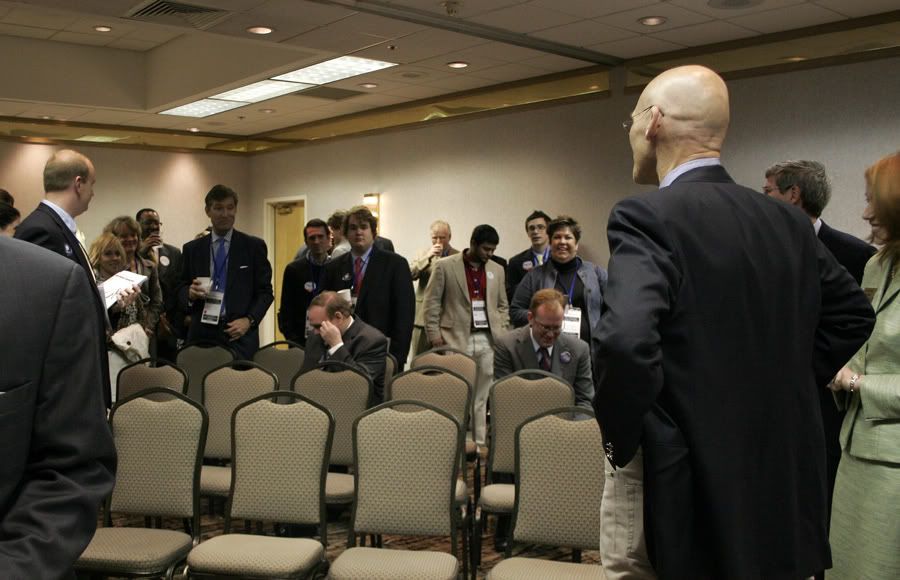 (Here's the Dome's coverage of the event, for which I was a primary source.)
Carville had just finished signing autographs and standing for pictures. He was being shuffled out to give his speech to the Young Democrats of North Carolina's luncheon audience but he paused to offer some closing remarks to the attendees of this closed reception.
He remarked how important the NC Senate race was to the national Democratic party and how much attention was being paid to it. He told us that we had a great candidate, he'd just met her and that she...
The feminine pronoun hung in the air for a moment as the Ragin' Cajun searched for the name...
I got this shot just as Jim Neal's strong, steady voice filled the room (and that hole in Carville's memory?):
"I'm Jim Neal and I'm running for Senate."