And North Carolina is a likely battleground:
The Heartland Institute, a libertarian think tank skeptical of climate change science, has joined with the conservative American Legislative Exchange Council to write model legislation aimed at reversing state renewable energy mandates across the country. The Electricity Freedom Act, adopted by the council's board of directors in October, would repeal state standards requiring utilities to get a portion of their electricity from renewable power
Here's a copy of the model (cookie-cutter) Legislation, which is riddled with misleading information and outright lies, such as:
WHEREAS, many renewable sources of power currently cost more than traditional electricity generation technologies, and are projected to do so for the foreseeable future
Those state legislatures who created and voted for Renewable Energy Portfolio Standards (REPS) knew from the outset that clean and renewable energy generation cost more than the old dirty and dangerous methods. One of their main goals was to jump-start the sector, and through volume and technological advances actually reduce the costs associated. And it's working very well:
Total shipments of PV modules in 2011 hit a record high, increasing from 2,644,498 peak kilowatts (kWdc1 peak) in 2010 to 3,772,075 peak kilowatts (Figure 1 and Table 3). This represents a nearly 43-percent increase from 2010. Growth was spurred, in part, by declining PV cell and module prices (Figure 2 and Table 4) caused by competitive pressures.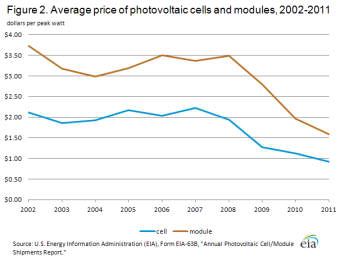 So if something is working as designed, and the benefits to our society are obvious, why would there be such fierce opposition? Because renewable energy is by its very nature distributed, making mega utilities less relevant, and it also has the potential to put the fossil fuel industry on a strict fiscal diet. We're talking billions in profits, encouraging millions in investment in astro-turf and pseudo-science:
But the involvement of the Heartland Institute, which posted a billboard in May comparing those who believe in global warming to domestic terrorist Theodore J. Kaczynski, shows the breadth of conservatives' efforts to undermine environmental initiatives on the state and federal level. In many cases, the groups involved accept money from oil, gas and coal companies that compete against renewable energy suppliers.

As part of its effort to roll back renewable standards, ALEC is citing economic analyses of state policies co-published by Suffolk University's Beacon Hill Institute and the State Policy Network. Both groups have received donations from foundations funded by the Koch brothers.

"You push the legislation to state legislators and then you fund reports to support the argument and convince state lawmakers," Elsner said, "and all without any transparency or disclosure about the sources of this funding."

David G. Tuerck, executive director of the Beacon Hill Institute and chair of Suffolk University's economics department, said Koch funding did not determine the report's conclusions about renewable energy.

"Koch certainly has not had the only role in funding these studies," Tuerck said, adding the other donors had asked to remain anonymous.
Really? The fact that there are other secret donors is supposed to make us feel more secure about your "research"? Apparently integrity isn't the only thing missing from this "Institute". There seems to be a gaping void where logic used to reside, as well.