Reaping the rewards of faithful service to the Puppetmaster:
Merritt is a Certified Public Accountant and former State Auditor for North Carolina having served from 2005 until 2009. Merritt is a member of the North Carolina Ethics Commission. He earned degrees in Accounting and Economics from North Carolina State University. His contract began in May 2013 and expires in May 2014. It is capped at $312,000 and includes two, one year options.
Merritt also, along with Frank Perry (who also received a cushy government job) headed up an arm of Art Pope's network to investigate public corruption. But if you wanted to click that link to report Perry or Merritt or any other potentially corrupt Republicans, I'll save you the trouble:
HTTP ERROR: 504
Gateway Timeout

RequestURI=http://reportpubliccorruption.org/
That's right, the push to investigate public corruption, by this organization anyway, ceased as soon as Republicans took control of state government. Here's Les Merritt's contract: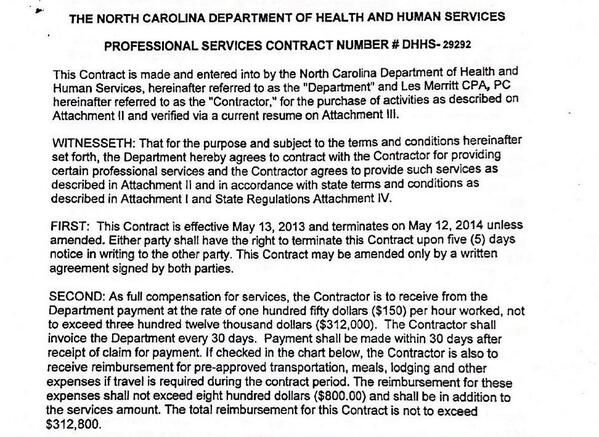 And what he's billed (and been paid) so far:
Les Merritt CPA-CFP 7012013 199.50 29,925.00

Les Merritt CPA-CFP 8022013 190.50 28,575.00

TOTAL 390.00 58,500.00
That's two months of hourly billing, and $58,500 of taxpayer's money spent. If Merritt was really concerned about "balancing the books" he would start by tearing up his own contract.