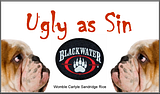 According to the Blog of Legal Times, one of the many law firms in bed with Blackwater is coming to grips with the reality of associating with ruthless mercenaries. Here's the short version of the story.
1. Blackwater mercenaries screw up.
2. Charges are brought.
3. Blackwater mercenaries hire big-time law firm.
4. Big-time law firm fails to get the mercenaries off the hook.
5. Blackwater CEO Erik Prince has a hissy fit and hires more lawyers.
6. The new lawyers file a malpractice suit against the old lawyers.
7. The old lawyers file a motion to dismiss.
8. The new lawyers make shitload of money off the mercenaries.
9. War is good business.
I'm sure the attorneys at Womble Carlyle Sandridge Rice (WCSR) have taken note, and are dutifully covering their rear ends. Because if there's one thing that's sure when you're dealing with Blackwater USA, it's this: they don't care who they run over on the way to the bank.