Turnout appears to be massive. I wrote a diary yesterday about what it would take for NC popular vote to erase PA popular vote and quiet all the yappering on teevee. If overall turnout of eligibles IS 50%, then Obama needs to win by 11.1% to erase PA.
UPDATE: Obama 66, Clinton 49. Obama wins by 236,270 votes with only tiny updates trickling in. That's 22,046 more than Obama lost in PA. It's also more than the margin will be in Indiana. Everything was accomplished tonight.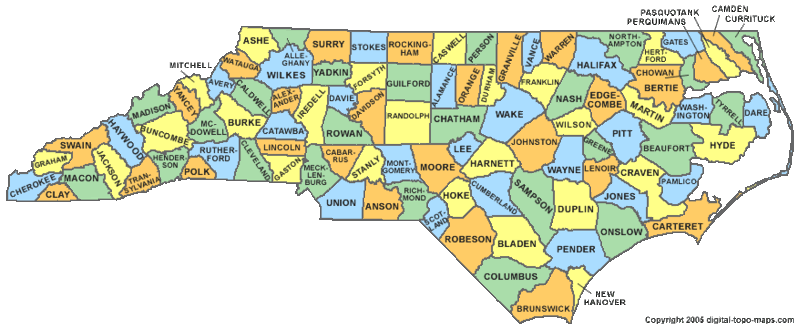 North Carolina has 115 pledged delegates up for grabs. 77 at the district level and 38 statewide. Statewide is split twice, 26 at-large delegates and 12 PLEO delegates.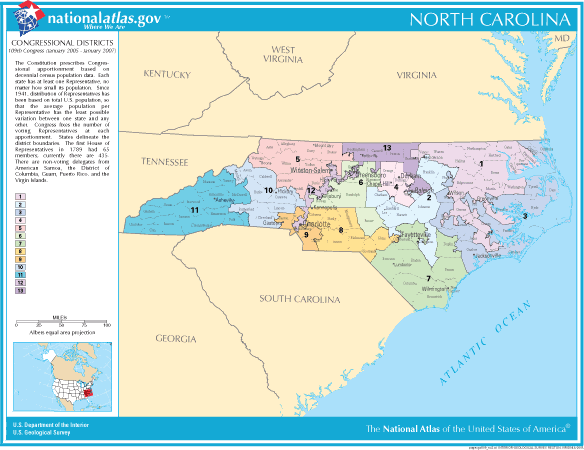 At large race, 26 delegates:
Winner gets: 50.01%-51.92%, 13-13 split
Winner gets: 51.93%-55.77%, 14-12 split
Winner gets: 55.78%-59.61%, 15-11 split
Winner gets: 59.62%-63.46%, 16-10 split
Winner gets: 63.47%-67.30%, 17-9 split
Winner gets: 67.31%-71.15%, 18-8 split

PLEO race, 12 delegates:
Winner gets: 50.01%-54.16%, 6-6 split
Winner gets: 54.17%-62.49%, 7-5 split
Winner gets: 62.50%-70.83%, 8-4 split

Updating results: Obama 57.58%, Clinton 42.42%
Translation to at-large: Obama 15, Clinton 11
Translation to PLEO: Obama 7, Clinton 5
Total statewide translation: Obama 22, Clinton 16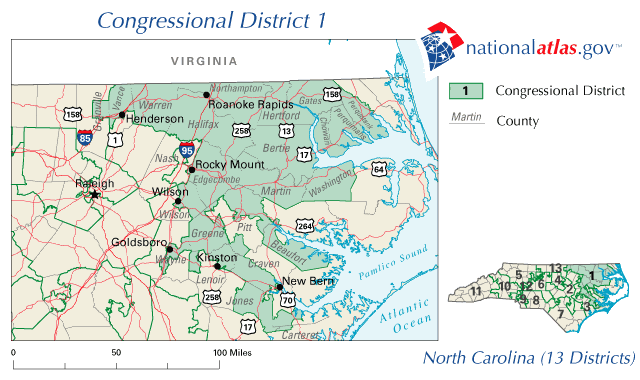 Congressional District 1 race, 6 delegates
Winner gets: 50.01%-58.33%, 3-3 split
Winner gets: 58.34%-74.99%, 4-2 split
Winner gets: 75.00%-85.00%, 5-1 split
Winner gets: over 85%, loser not viable, 6-0 split

Updating results: Obama 65.09%, Clinton 34.91%
Translation to: Obama 4, Clinton 2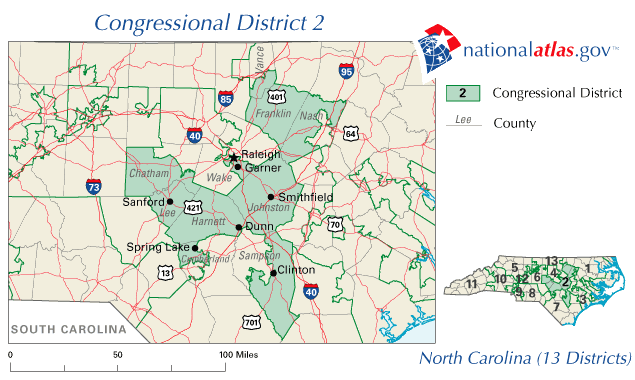 Congressional District 2 race, 6 delegates
Winner gets: 50.01%-58.33%, 3-3 split
Winner gets: 58.34%-74.99%, 4-2 split
Winner gets: 75.00%-85.00%, 5-1 split
Winner gets: over 85%, loser not viable, 6-0 split

Updating results: Obama 59.01%, Clinton 40.99%
Translation to: Obama 4, Clinton 2
Congressional District 3 race, 4 delegates
Winner gets: 50.01%-62.49%, 2-2 split
Winner gets: 62.50%-85.00%, 3-1 split
Winner gets: over 85%, loser not viable, 4-0 split

Updating results: Obama 44.90%, Clinton 55.10%
Translation to: Obama 2, Clinton 2
Congressional District 4 race, 9 delegates
Winner gets: 50.01%-61.10%, 5-4 split
Winner gets: 61.11%-72.21%, 6-3 split
Winner gets: 72.22%-83.32%, 7-2 split

Updating results: Obama 66.68%, Clinton 33.32%
Translation to: Obama 6, Clinton 3
Congressional District 5 race, 5 delegates
Winner gets: 50.01%-69.99%, 3-2 split
Winner gets: 70.00%-85.00%, 4-1 split
Winner gets: over 85%, loser not viable, 5-0 split

Updating results: Obama 42.49%, Clinton 57.51%
Translation to: Obama 2, Clinton 3
Congressional District 6 race, 5 delegates
Winner gets: 50.01%-69.99%, 3-2 split
Winner gets: 70.00%-85.00%, 4-1 split
Winner gets: over 85%, loser not viable, 5-0 split

Updating results: Obama 49.27%, Clinton 50.73%
Translation to: Obama 2, Clinton 3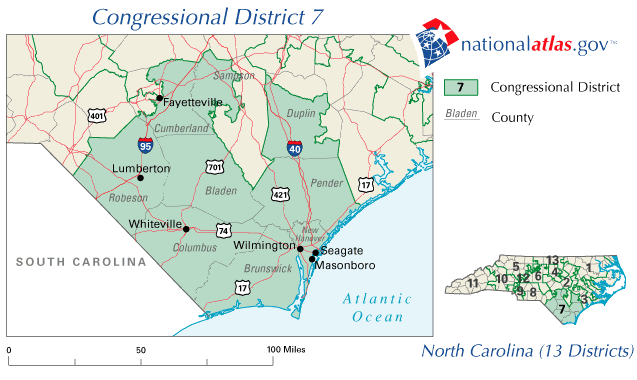 Congressional District 7 race, 6 delegates
Winner gets: 50.01%-58.33%, 3-3 split
Winner gets: 58.34%-74.99%, 4-2 split
Winner gets: 75.00%-85.00%, 5-1 split
Winner gets: over 85%, loser not viable, 6-0 split

Updating results: Obama 48.51%, Clinton 51.49%
Translation to: Obama 3, Clinton 3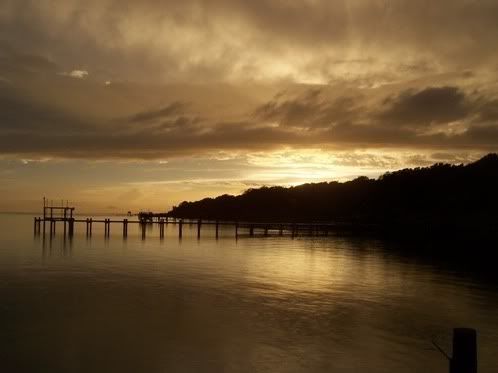 Congressional District 8 race, 5 delegates
Winner gets: 50.01%-69.99%, 3-2 split
Winner gets: 70.00%-85.00%, 4-1 split
Winner gets: over 85%, loser not viable, 5-0 split

Updating results: Obama 59.16%, Clinton 40.84%
Translation to: Obama 3, Clinton 2
Congressional District 9 race, 6 delegates
Winner gets: 50.01%-58.33%, 3-3 split
Winner gets: 58.34%-74.99%, 4-2 split
Winner gets: 75.00%-85.00%, 5-1 split
Winner gets: over 85%, loser not viable, 6-0 split

Updating results: Obama 57.05%, Clinton 42.93%
Translation to: Obama 3, Clinton 3
Congressional District 10 race, 5 delegates
Winner gets: 50.01%-69.99%, 3-2 split
Winner gets: 70.00%-85.00%, 4-1 split
Winner gets: over 85%, loser not viable, 5-0 split

Updating results: Obama 37.19%, Clinton 62.81%
Translation to: Obama 2, Clinton 3
Congressional District 11 race, 6 delegates
Winner gets: 50.01%-58.33%, 3-3 split
Winner gets: 58.34%-74.99%, 4-2 split
Winner gets: 75.00%-85.00%, 5-1 split
Winner gets: over 85%, loser not viable, 6-0 split

Updating results: Obama 43.27%, Clinton 56.73%
Translation to: Obama 3, Clinton 3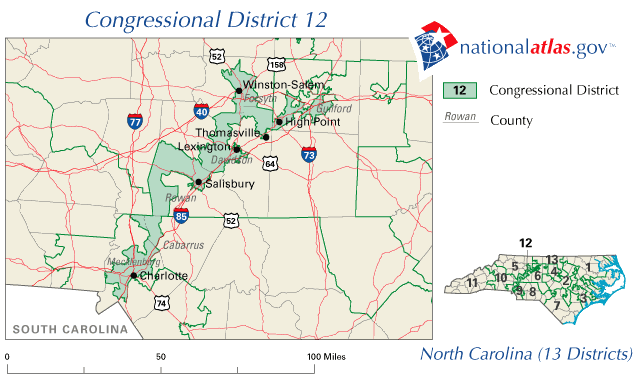 Congressional District 12 race, 7 delegates
Winner gets: 50.01%-64.28%, 4-3 split
Winner gets: 64.29%-78.57%, 5-2 split
Winner gets: 78.58%-85.00%, 6-1 split

Updating results: Obama 79.00%, Clinton 21.00%
Translation to: Obama 6, Clinton 1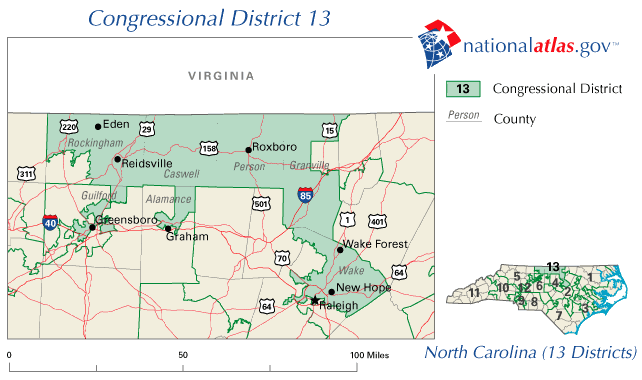 Congressional District 13 race, 7 delegates
Winner gets: 50.01%-64.28%, 4-3 split
Winner gets: 64.29%-78.57%, 5-2 split
Winner gets: 78.58%-85.00%, 6-1 split

Updating results: Obama 64.16%, Clinton 35.84%
Translation to: Obama 4, Clinton 3