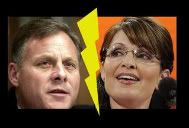 Who'd have thought I'd ever agree with Sarah Palin. This excerpt from the Atlantic, emphasis added:
"We were informed today that she (Sarah Palin) no longer wishes to do talk radio interviews in the car. It's too distracting," wrote a senior Palin adviser, in an e-mail to senior headquarters staffers. "We were informed today that she no longer wishes to do TV or print interviews post-rally. She's drained. We were informed of her displeasure that her host and US Senator Richard Burr was allowed to ride the Straight Talk Express II with her."
What a pickle for the Lawnmower Man! After all his gushing about Caribou Barbie, turns out she couldn't even stand to travel with the guy. Maybe we'll finally hear his side of the story, and discover that he thought she was an opportunistic airhead all along ... and all that good stuff he said was, ummm, nothing but lies?
Sen. Richard Burr, R-N.C., said in a statement that Palin's record shows substantive accomplishments.

"Governor Palin is a strong, pro-life conservative with a proven track record of reform in Alaska, effectively bringing accountability and transparency to government," Burr said. "Her experience as a chief executive of a state that is at the forefront of the energy debate will complement John McCain's experience and leadership."