This interview/profile was written for my readers over at Pam's House Blend, so a good portion of the information about Dan Besse is familiar to the BlueNC crowd. Dan gave me a solid two hours of his precious time to discuss a full range issues, and in this piece I discuss LGBT rights issues of concern here in NC. He was frank and forthcoming on a topic that many pols are skittish about -- as we've seen in some of the liveblogs.
NC politicians, take a look at how it can be done.
--Pam
It's important to recognize -- and encourage -- our allies in the effort to move LGBT rights forward. In the past I've interviewed or profiled politicians in Red states who took public stands in favor of LGBT equality. Virginia Delegate David Englin (D-45), who gave a passionate speech on equality on the floor of the legislature was one, and I covered the stand of Republican Wyoming State Rep. Dan Zwonitzer, who showed a spine by voting to defeat a bill that would have allowed Wyoming to ban recognition of legal same-sex unions.
I thought I'd do a profile of an ally running for office in NC; a Purple state that's undergoing a political evolution of sorts. It's one thing to show your spine once elected, it's another to stump across the state as pro-LGBT will raise the eyebrows of political peers (and stodgy consultants and naysayers). Look for future profiles as more and more Red and Purple state allies step up.
---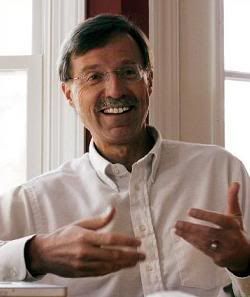 This post is a profile of one of the candidates seeking the open lieutenant governor's seat in North Carolina, Dan Besse (Bev Purdue, the current LG, is running for governor). In the Democratic primary, Besse faces Canton Mayor Pat Smathers, Raleigh attorney Hampton Dellinger and state Sen. Walter Dalton. All of the LG candidates have engaged with the gay community in this cycle; Besse has been upfront for some time on the issues. I hope to snare the others to share their views on LGBT equality.
We played a lot of email and phone tag, but finally, last Friday, he unexpectedly gave me a whopping 2 hours of his time after a long day on the road campaigning.
Besse is a strong supporter of LGBT rights, and is on the record supporting anti-bullying legislation currently before the NC General Assembly. Unfortunately, the N.C. Senate stripped out sexual orientation and gender identity and returned the bill to the House. The House has not concurred with that change, and the legislation remains alive for the legislative short session in May. Dan:
"As lieutenant governor, I will be an active working member of the state Board of Education. In that position, I will press for implementation of statewide comprehensive anti-bullying rules, specifically protecting our children from abuse based on their sexual orientation or identity. These are among the most frequent problems faced by our students. We cannot allow this violence to continue.

I have heard from too many parents and other family of students who have been mercilessly harassed at school because they were seen as 'different' in their sexual orientation. In Winston-Salem, my local chapter of PFLAG (Parents, Family, and Friends of Lesbians and Gays) has been working on this problem for years. It's time to act now statewide to deal with it."
Dan's no transplant to the area; he's a Tar Heel native, born in the small conservative town of Hickory, Besse has lived all over the state -- school at UNC-Chapel Hill (more on that later), Greensboro, New Bern and Lumberton and currently Winston-Salem, where he was first elected as a Democrat to the Winston-Salem City Council in 2001 and re-elected in 2005.
As I did with Jim Neal, I asked Dan about his impressions of North Carolina and its politics, as folks outside the state often have misconceptions (after all we DID send Jesse Helms up to the U.S. Senate over and over).

Pam Spaulding: Many readers of my blog, particularly those in large metro areas think it's an slowly changing but still solidly Red state based on the people we send to federal office (Helms, Dole, Burr). How do you see things as you travel the state?

Dan Besse: North Carolina is a fascinating place. There's a tendency in NC to send Republicans to the Senate, and lately we've been splitting our ticket in the House of Representatives and NC has been voting for a lot of presidential candidates. Now at the state level, we have been pretty consistent about electing Democrats to statewide office and the General Assembly has been under Democratic control for several cycles now. Someone told me, last year, I think, that NC is the only Southern state to have one of its legislative chambers go majority Republican and then get it back. That every other place in the Old South that has had the Republican party take over either chamber of the legislature, it stayed Republican. So it's amazing how competitive NC is now, between the parties and among political philosophies. We have some of the most socially backward, politically reactionary politicians on the loose in NC and yet we have a strain of progressive politics in NC that is viable and active and sends people to local office frequently, the General Assembly more and more, and this year has a chance to put people in statewide executive positions.
(Speaking of reactionary politicians, one of these pols is running for governor, Fred Smith, an author of the state marriage amendment that would ban any kind of legal recognition of same-sex couples). Besse noted that NC is a dramatically changing state demographically; Besse said that for the first time the state has more people living in the urban areas of NC than rural regions, and these areas are becoming more diverse, more cosmopolitan, and that, in turn, has had an effect on the political philosophy evolving. Also, the Triangle area has one of the highest concentration of folks with advanced degrees in the country, it's a state with a large immigrant population, and it's where a lot of folks from other parts of the country who want a slower pace of life and the ability to afford a home have fled to.
On to LGBT matters... My first question was whether Dan or any of the other LG candidates have been asked about these issues, either by the mainstream media or in town hall forums.

I don't think I've been interviewed by a reporter on LGBT issues during the campaign. They have come in several forums and I've been to several Equality NC events, so it's been a live topic of discussion, oddly enough, probably as much in the Lieutenant Governor's campaign as anything else. And I commonly get a chance to make reference to the equality issues, and usually get a good a response, and it's a live topic in this race.
I asked him about the state of LGBT protections in Winston-Salem, the fourth largest city in the state, where he is currently a Winston-Salem city council member. He said that his city has changed dramatically in terms of political climate in the last 20 years; the council is half black, the majority are women, and seven out of eight are Democrats. All are from the urban neighborhoods in the city, and that has had an impact on progress.

Last year, I'm pleased that I was able to persuade my colleagues to adopt an amendment to our personnel policies, now it's explicitly against our city rules to discriminate in any way on the basis of sexual orientation. That's the first step; we haven't yet made progress on addressing other benefits...it does not explicitly include gender identity, and that's a learning curve... I had to make a decision on whether to take a big public splash and credit for it, or to get it through on a more assured basis rather than face the prospect of a split vote. It was important to get this done; it was as an amendment to the annual personnel policy adoption package rather than a stand-alone measure. It wasn't brought up as a big controversy.
It wasn't done in the dead of night, however, the city council was aware of inclusion of the change and it passed without issue. He was then informed that the measure language would not cover gender identity -- another lesson learned.

When it passed it and I was going "Great, great, we did it!", the first reaction I got from the Equality (NC) web site was "well, we're very glad that Winston-Salem has adopted this change, but we're disappointed that gender identity was not included." I said to myself, "What, what?" and that was a personal learning curve on my part. No one was explicitly asking for an independent reference to gender identity, I was making the assumption that this was covered.
Besse went on to say that ironically, at the same time this question was being debated in the Human Relations Commission. It was trying to decide how to address it, and recommended a public forum that explicitly noted sexual orientation (again, not gender identity), and the recommendation was never formally brought before the city council because it had already acted upon it. Besse is hopeful that gender identity can be addressed in Winston-Salem soon, but if elected LG he would support a statewide measure inclusive of gender identity and expression.
I asked about the chance that institutionalized discrimination against LGBT Tar Heels will be addressed legislatively. For instance, many people in North Carolina -- even many progressives -- are unaware that in NC 1) if you work for the state you can be fired from your job if you are openly LGBT; and with that 2) no partner benefits are extended to gay couples.

I think there is a good chance that we can move forward on that issue, particularly the institutionalized discrimination issues beginning next year. This sounds like a plug for my campaign - imagine that -- but I think that our prospects of doing that are somewhat dependent in part on who we elect lieutenant governor. Because unlike the gubernatorial race, this has been a specific topic in this primary campaign. I know that the EqualityNC folks are tickled by this -- you have all four lieutenant governor candidates to a greater or lesser degree, seeking support from the community.
Those candidates, as well as House Speaker Joe Hackney and many other public officials attended the EqualityNC conference and gala last year. Besse said that would not have happened in prior years -- this is a tipping point year -- we can make one of those substantial steps forward because of the culmulative changes that have been made over time. He says we could come into 2009 with a solid Dem majority in the General Assembly, a Dem governor, and would be able to pass anti-discrimination legislation in the first term.
Besse's attended Equality events in Asheville, Hickory and Durham, and noted that in Asheville the missing LG candidate was Sen. Walter Dalton (who ironically co-signed on the state marriage amendment). Dan noted that Dalton even showed up at Equality event in conservative Hickory. Besse observed that the state senator must have experienced either a change of heart on the issue of LGBT rights, or has calculated that his past anti-gay positions aren't going to fly in the primary. Still, Dalton's going to have to answer for sponsoring a discriminatory bill (his excuse, in an N&O article, is that his support of the amendment was "a reflection of representing a conservative district." Oh, please.
***
One of the personal stories Dan Besse shared that informed his views on equality is quite eye-opening. Back in the 70s, when it wasn't exactly popular to be an ally of LGBTs in North Carolina, he got a taste of what discrimination was like while attending UNC-CH, which wasn't exactly a hotbed of progressive thought at the time.

When I was an undergraduate at UNC, and this was already the place where Jesse Helms said that NC didn't need a state zoo, it has Chapel Hill. But it was a very different place in in 1975...I had gotten elected to the student legislature, at that time it was called the campus governing council. I was talking about housing issues and academic policy and community activism, and there was an issue that I wasn't really ready for at the time. There was a fairly new organization on the campus called the Carolina Gay Association. And I grew up in a, shall we say, a very conservative small town, Hickory...it was culturally very conservative, a different environment. I got to college and this comes on the radar, it never hit me before.

The debate at the time was whether the CGA would receive student funding. And I naively set up a hearing in my district on this question. And after I had scheduled and announced it, a young woman, a fellow student, pulled me aside and said "what are you doing this for?" It got me to thinking...but I have to go through with the hearing.

The hearing is set up in the basement recreation room of one of the dorms in my district. It's scheduled for 7 o'clock. 7PM comes and goes and about ten after 7, nobody is there except myself and the two people I invited to be on the panel discussion. This is great - nobody is going to bother us. And about that time, we start hearing people stomping...and noise growing, coming down the stairway, and somebody shouting...as they get closer, the words get clearer: "Where are the queers? Where are the queers?!" And so they get to the basement room...it felt like a massive horde of people at the time, but it was probably wasn't more than two or three dozen.

We had to go through with the panel discussion and hearing process. It was kind of edgy there. There were a couple of people who looked like they were going to charge the speakers physically. One guy got up to do it, and the only thing I could think of was to try to talk him down to avoid a brawl...we got out of the hearing without it erupting into a fist fight.

It came to the vote on the council; it was a split vote but we approved the thing (funding the Carolina Gay Organization). After that, when I would walk across parts of campus, people would start to shout out slurs. I started to go into sandwich shops to eat and would take abuse from people on the subject. And that really started me to thinking...I hadn't had the experience of being on the receiving end of that kind of bias before, and I realized that is a mild version of what LGBT people are wrestling with every day and I've got to get on the right side of this. And it made me angry. And the more it happened, the more I thought about it. I had to face a recall election -- people got enough names on a petition to force a revote on my elected position on the campus governing council and it had to go to a runoff.
And it was just because he stood up for something that is right. Besse did manage to hold on to his seat on the governing council, by the way. But his point is that how much the environment in NC has changed since then; it's simply it's not socially acceptable on most college campuses in the state to foment that sort of explicit bias.
Speaking of bias, regarding the state of the NC GOP, Besse believes that it's a party in crisis, illustrated by the gubernatorial primary, as the Republicans decide whether to circle the wagons around Pat McCrory, who's no friend of the gays, but is a more business-friendly Republican, and homophobe Fred Smith, who is backed by the fundies.

I think there is an element, as in many states of course, for whom that kind of explicitly unwelcoming, unaccepting and intolerant spirit is a selling point. And he will win some votes, certainly in the primary and lesser percentage in the general election if he makes it, on that basis...I think our state has changed enough for the good that we will have as many people who would vote against him as those who would vote for him in the election...An element of the business-based Republicans is worried about that, and rightly so, that it's bad for business, and that's the only thing they care about. They would rather have someone who has the image of being moderate on social issues.
This obviously bodes well for Democrats as well as progressives.
***
I also spoke at length with Besse about other issues, including his long advocacy of the need for responsible environmental stewardship, his early opposition to the Iraq war, and his emphasis on the need to deal with the exploding health care crisis. I'm going to get some segments of that interview up, but I wanted to share a few videos that give you a flavor of Dan Besse's approach.
The N.C. Democratic Party's resolution opposing the war in Iraq five years ago was the first by a state party during that insane run-up to the war.
Dan, who endorsed Barack Obama last week, cited his early opposition to military action in Iraq.
In 1982, Dan Besse spearheaded the effort to stop the construction of three unnecessary nuclear plants in North Carolina.
Related:
* Dan Besse's campaign web site. Donate to his campaign here.
* News & Observer profile of Dan Besse
* You can read Dan Besse's BlueNC liveblog on a host of issues.
---
Notes on this interview with Dan Besse:
it was refreshing to ask a candidate basic questions about LGBT issues and have them answered without dodges or attempts to change the subject.

In contrast, the leading Dem candidates for governor, Bev Perdue and Richard Moore I recently asked them whether they would sign off on the Smith-sponsored marriage amendment during their BlueNC live blogs (click their names for links to them). Both ignored the question -- that didn't go unnoticed by people participating in the event.
Also, I'll soon have an article up about the vague, evasive answers to basic, polite, specifically framed questions on LGBT equality by U.S. Senate candidate Kay Hagan. The lack of response to repeated polite requests for follow up on these issues by me, other liveblog participants and journalists is disturbing. It unfortunately only reinforces the perception that constituent services will not be a priority for Hagan if elected, something North Carolinians are sorely already lacking with Elizabeth Dole in office. I would love to be wrong on this.
Candor and accessibility on LGBT issues, whether you are supportive or not, is something that can earn you respect as an honest broker.