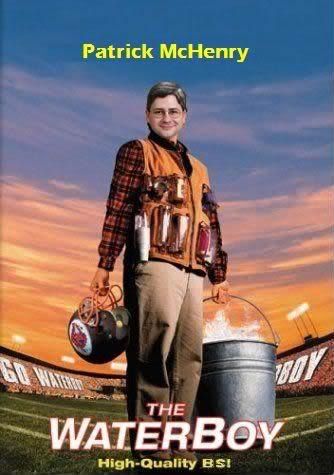 I've realized that Patrick McHenry has been a water carrier for banking interests. What I hadn't realized was how low McHenry, along with Dick Armey's army, would go in serving his corporate paymasters.
According to Credit Union Times:

Representative Patrick McHenry (R-NC) has written Rep. Barney Frank (D-Mass), Chairman of the House Financial Services, seeking a hearing on the issue of individuals and organizations allegedly using non-profits to manipulate real estate and other markets.

As an example of this possible manipulation, McHenry used the Center for Responsible Lending, an affiliate of the Durham, North Carolina based Self Help Credit Union.
The basis of McHenry's complaint is a bogus report February 21st by the Consumer Rights League a front group for the predatory lending industry whose sole purpose appears to be attacking the Self Help Credit Union and, in particular, the affiliated Center for Responsible Lending (with, no mere coincidence, the same acronym, CRL) calling it a "predatory charity".
The newly minted Consumer Rights League is headed by Terry Kibbe, a former development director at right-wing think-tanks like the Competitive Enterprise Institute and, the CATO Institute. The organization is housed at 601 Pennsylvania Ave., NW, North Building, Suite 700, Washington, DC 20004
It is no mere coincidence that Freedomworks is also housed at 601 Pennsylvania Ave., NW, North Building, Suite 700, Washington, DC 20004
It is no mere coincidence that FreedomWorks President and CEO is Matt Kibbe, husband of Terry Kibbe.
It is no mere coincidence that Matt Kibbe wrote an article February 27th, 2008 "Protect the Option of Payday Advance in Virginia"
It is no mere coincidence that Matt Kibbe wrote an article January 23rd "Preserve Credit Options in Virginia"
It is no mere coincidence that Matt Kibbe wrote an article November 13, 2007 ""Key Vote "NO" on HR 3915, the "Mortgage Reform and Anti-Predatory Lending Act of 2007""
McHenry has long been an enemy of the Self Help Credit Union, the Center for Responsible Lending and founder Martin Eakes. According to a Credit Union Times article March 14, 2007 McHenry was quoted giving an address at America's Community Bankers' Government Affairs Conference:
McHenry said he feels there is no need for predatory lending legislation because "the marketplace will sort these things out best."
:::::
McHenry cited the Center for Responsible Lending and its CEO Martin Eakes, also CEO of Self-Help Credit Union, as the ones who "wrote" the North Carolina law.
In the same address McHenry repeated his canard about credit union regulators being concerned about paper folds. Back in 2005 in a Credit Union Times article described McHenry's proposed legislation to strip the National Credit Union Agency of some of its authority to regulate the conversion of credit unions to mutual bank charters:
Jim Blaine, CEO of the $13 billion State Employees Credit Union, headquartered in Raleigh, shares a home state with McHenry. He speculated that the Congressman had only received one side of the story when it came to conversions and that he would welcome the chance to share the other part of the story with the congressman. "If all this was really about just how a piece of paper was folded," Blaine said, referring to the reason opponents have charged the NCUA has declined to approve the $1.4 billion Community Credit Union's charter change vote, "then I would be with him all the way, but that's not what this is about and nobody has bothered to tell him that yet."
In a 2005 hit piece by the conservative Capital Research Center, which targets progressive non-profits, McHenry is referenced as being critical of Self-Help's purchase of a DC building to house the Center for Responsible Lending. The Capital Research Center has a budget of $1-$2 million and assets of over $12 million whose donors are largely unknown but include the usual suspects of Lynde and Harry Bradley Foundation, Sarah Scaife Foundation, Carthage Foundation, Earhart Foundation, Claude R. Lambe Charitable Foundation, John M. Olin Foundation, Philip M. McKenna Foundation. Among their targets have been ACORN and the MacArthur Foundation whose Fellows Program is known as the "Genius Grant".
In 2005 McHenry was a co-sponsor of the weak-kneed HR 1295 "Responsible Lending Act" in opposition to HR 1182 "Prohibit Predatory Lending Act" sponsored by Brad Miller.
HR 1295 is filled with loopholes including far less protection against prepayment penalties, and limited protection for those without "high cost" loans (loans with reasonable interest rates and less than 5% upfront fees), encouraging more "creative" means of tacking on fees. Most significantly, HR 1295 preempts effective state laws
The Center for Responsible Lending prepared a side by side comparison of the bills.
McHenry was also a primary sponsor of a 2005 bill, HR 3206 "Credit Union Charter Choice" designed to make it easier for credit union conversion to banks at the expense of members and for the greater benefit of directors. It garnered praise like this from banking interests:

The Independent Community Bankers of America is pleased to submit this statement regarding H.R. 3206, the Credit Union Charter Choice Act. We commend Rep. Patrick McHenry for taking a leadership role on this issue
America's Community Bankers, the banking industry group McHenry addressed last year, had a glowing endorsement of McHenry's bill in The Hill in 2005:
ACB has been an outspoken advocate of H.R. 3206, the Credit Union Charter Choice Act, introduced by Reps. Patrick McHenry (R-N.C.) and Ed Towns (D-N.Y.)
The Consumers Rights League is not the first industry astroturf to attack credit unions. According to a firewalled article in the Credit Union Journal July 16, 2007 entitled "Shadowy Group Sues NCUA Over CU Conversions Rule"

The self-styled Coalition for CU Charter Options has fought NCUA efforts to regulate conversions for at least five years and is represented in its suit by long-time thrift lobbyist Jim Butera, and is headed by Lee Bettis, former CEO of AGE FCU, which he helped convert to a thrift. Butera also represents the American Bankers Association, and he helped craft the proposal to ease credit union conversions to thrifts, which failed in the last Congress.
McHenry's "failed bill" is at the heart of his success in Congress. In the now infamous Washington Monthly article about McHenry, "Getting Ahead in the GOP: Rep. Patrick McHenry and the art of defending the indefensible." Benjamin Wallace-Wells writes:

One of the first bills authored by McHenry, whose district has 172,000 credit union members, would make it much harder for government to regulate or block the conversion of credit unions into banks, a process that tends to benefit the credit union's directors (who get to cash in stock options and can sometimes make millions) and hurt the union's members, who can no longer borrow and save at the same generous terms.

McHenry's credit union bill, a high priority for the banking lobby, has received strong backing from DeLay. The Republican leadership awarded McHenry a seat on the House Financial Services Committee upon his arrival in Washington. "Most people would say it's the most plum assignment you can get," one conservative lobbyist told me, "because you can leverage it to do so much in fundraising." But first you have to prove yourself. Asking McHenry to author a bill that undermines the interest of half his constituents is the political equivalent of demanding a young Mafia enforcer kill his cousin as a test of loyalty.
McHenry's latest attack on the Center of Responsible Lending come on the heels of his fawning over sub-prime lender Countrywide. His toadying obsequiousness to the credit union converters and the predatory lending industry and his use of right-wing front groups to smear genuine American Heroes like Martin Eakes is despicable. But then no-one ever gave McHenry a genius grant.