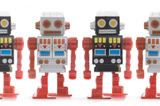 The N&O writes something about Sarah, but it's not entirely clear what.

Charlotte Observer readers wonder whether graffiti that says Kill Obama is protected free speech. A few too many think it's just fine.

Gary Pearce weighs in on the wonder of women being women.

Chris Fitzsimon asks which is more important: ideology or people. I wonder if they're not really the same thing.

Rick Martinez says let the market handle the market. He has a point.

Jim Buie admires the restraint Democrats are showing in not hanging George Bush & Co., from the yardarm. Not sure I agree.