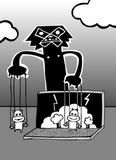 In a local squabble reminiscent of infighting around Connecticut for Lieberman, Hairdresser Puppet Joe Boylan tells a Pilot reporter that he doesn't know how to pull strings the way the Puppetmaster does.
The Moore County Republican Party's Executive Committee has adopted a resolution asking state Rep.-elect Joe Boylan to help squelch the actions of one of his supporters. The resolution doesn't name Boylan backer Ed Kennedy, though it clearly refers to him.

"I don't have any more control over Mr. Kennedy's actions than I do over those of supporters of my opponent," Boylan said Thursday.
(Note to Boylan: You have no opponent. You won. Get your talking points straight.)
Puppetmaster Pope must be pissed. Here he went and spent a ton of corporate money to win himself another seat in the House, and his Chosen One can't control his minions. Not a good sign.
Kennedy is trying to have several members of the Executive Committee brought up on party disloyalty charges for supporting unaffiliated candidate Bud Shaver in the November election. He wants all of former state Rep. Richard Morgan's supporters stripped from their leadership positions in the party. Some of the Morgan supporters, whom Kennedy calls "Morganites," supported Shaver in November. Boylan defeated Morgan in the May 2 Republican primary. Shaver was one of two unaffiliated candidates who challenged Boylan in the general election. Shaver is a registered Republican.
The Party of Greed's "big tent" looks to be showing some signs of strain. Which is to be expected given the purification practices endorsed and executed by the Puppetmaster himself.
The resolution calls for Boylan to use his influence to put a muzzle on Kennedy. Kennedy has called the Shaver supporters "traitors" and worse. He hopes to have the state Executive Committee strip Joan Thurman and Lorraine and Bob Tweed of their leadership positions within the local GOP. The state party did the same thing to Morgan in 2004, accusing him of party disloyalty because of the power-sharing deal he cut with Democrats in 2003 that made him co-speaker of the House.

::

The resolution goes on to condemn Kennedy, though it doesn't name him, for calling party officials "evil, hateful, hate-mongers, traitors, cowards, hypocrites, vengeful, cancers, saboteurs," and "despicable." It calls Kennedy's actions harassment and outs him as a former Democrat who changed his affiliation only two years ago.
Go read the whole Pilot story . . . it's a good one. And send a note to the reporter, Matthew Moriarity. moriarty@thepilot.com.