An effort by Republicans to register voters with paid workers is underway in North Carolina and across the nation. In the past month various ads have appeared on Craigslist, Facebook and other online job listings offering amounts from $11 to $13 per hour (and in some cases internship credit) to help Republicans and Mitt Romney win in North Carolina in November by identifying conservatives and registering them as voters. The operation is linked to an Arizona company with a history of fraud allegations including the destruction of Democratic registration cards.
The operation appears to be run by a company called Strategic Allied Consulting, LLC, on behalf of the NC Republican Party. Campaign filings with the Federal Election Commission show that the NC Republican Party federal fund paid $333,267.50 to Strategic Allied Consulting in July. The company was set up in Virginia in June 2012 and filings with the Virginia Secretary of State reveal no identifying information other than that of a corporate filing service.
There is evidence that similar operations are being conducted in Colorado, Florida and, Virginia on behalf of the Republican Party. There is no evidence of business registration in either North Carolina, Colorado, or Florida (or Arizona).
The NC online ads have been placed by Eliza Steed and John Bria with their contact information listed both separately and together. The promised amounts vary among $11, $12 and $13 per hour depending on the ad location. In the most recent listing Bria identified himself as a Regional Supervisor for Strategic Allied Consulting. In earlier ads Steed identified herself as working for the Republican Party though her name did not appear in party reimbursement records.
According to NC voter registration records an Eliza Davidson Steed is registered to vote in Wake County and in Nash County. Don't expect the crack team at the Voter Integrity Project to jump on that one. They're too busy exhuming dead voters.
North Carolina has few restrictions regarding paid voter registration efforts, which are generally legal. It is a misdemeanor to exchange or to withhold a completed voter registration form over money, as it is to alter or destroy one.
It shall be a Class 2 misdemeanor for any person to sell or attempt to sell a completed voter registration form or to condition its delivery upon payment.
(a1) Misdemeanors. – It shall be a Class 2 misdemeanor for any person to do any of the following:
(1) To communicate to the applicant acceptance of the delegation described in subsection (a) of this section and then fail to make a good faith effort to deliver the form so that it is received by the county board of elections in time to satisfy the registration deadline in subdivision (1) or (2) of subsection (c) of this section for the next election. It shall be an affirmative defense to a charge of failing to make a good faith effort to deliver a delegated form by the registration deadline that the delegatee informed the applicant that the form would not likely be delivered in time for the applicant to vote in the next election.
(2) To sell or attempt to sell a completed voter registration form or to condition its delivery upon payment.
(3) To change a person's information on a voter registration form prior to its delivery to a county board of elections.
(4) To coerce a person into marking a party affiliation other than the party affiliation the person desires.
(5) To offer a person a voter registration form that has a party affiliation premarked unless the person receiving the form has requested the premarking.
While NC statutes do not explicitly make it illegal to require a quota of voter registrations of any paid voter registration worker as a condition of payment, to pay a bonus or, to impose a penalty based on the number of voters registered, any arrangement that ties payment to the number of voter registrations is questionable.
Daniel Spuller came to our attention earlier as a "Wikipedia editor" and the organizer of a micro PAC for Tony Gurley's primary run for NC Lt Governor called "A True Direction Committee". Spuller now lists himself on LinkedIn as NC State Director of Voter Registration at Strategic Allied Consulting. Eliza Steed, a recent NCSU graduate, still lists herself as a Campaign Intern for the Greater Raleigh Chamber of Commerce. Bria still lists himself as a Duke student.
Strategic Allied Consulting, LLC, has set up a generic one-page web presence. The ambiguous text reveals nothing about the nature of the operation. The domain name is being used for email addresses by voter registration operatives in Florida. The domain name is registered to Sproul & Associates in Tempe, Arizona, a company founded by Nathan Sproul, former director of the Arizona GOP and the state's Christian Coalition.
A 2005 article in the Baltimore Chronicle suggests that the RNC and Bush campaign took steps to obscure over $8 million it paid Sproul for voter registration operations in 2004.
Sproul got into a bit of trouble last fall when, in certain states, it came out that the firm was playing dirty tricks in order to suppress the Democratic vote: concealing their partisan agenda, tricking Democrats into registering as Republicans, surreptitiously re-registering Democrats and Independents as Republicans, and shredding Democratic registration forms.
Sproul's 2004 operation included the registration of Nader voters as spoilers. In 2008 Sam Stein at Huffington Post reported that:
John McCain's campaign has directed $175,000 to the firm of a Republican operative accused of massive voter registration fraud in several states.

According to campaign finance records, a joint committee of the McCain-Palin campaign, the RNC and the the California Republican Party, made a $175,000 payment to the group Lincoln Strategy in June for purposes of "registering voters." The managing partner of that firm is Nathan Sproul, a renowned GOP operative who has been investigated on multiple occasions for suppressing Democratic voter turnout, throwing away registration forms and even spearheading efforts to get Ralph Nader on ballots to hinder the Democratic ticket.
According to a June 2012 post by Lee Fang at the Republic Report Mitt Romney had made payments in 2011 to Sproul's Lincoln Strategy Group.
Late last year, Mitt Romney's presidential campaign began paying Nathan Sproul, a political consultant with a long history of destroying Democratic voter registration forms and manipulating ballot initiatives. Sproul, who changed his firm's name from Sproul and Associates to Lincoln Strategies, has received over $70,000 from Romney's campaign. Much of the campaign coverage has focused on the rhetoric of surrogates and the role of high-priced television advertisements. But if Sproul continues to play a role in the campaign, and if his previous work is any guide, his firm may have an impact on key swing states.
The article references coverage by Think Progress of Sproul's company's involvement in astroturf operations on behalf of the coal industry that included forged letters on stolen letterhead.
Even former Rep. Chris Cannon (R-UT), during a hearing on voter fraud, admitted that "the difference between ACORN and Sproul is that ACORN doesn't throw away or change registration documents after they have been filled out."
For all the talk about voter fraud, NC conservatives are still apparently willing to engage in activities with proven potential for abuse. Even the 2012 GOP Platform passed in Tampa opposes mail-in absentee ballots:
When ballots are mailed to every registered voter, ballots can be stolen or fraudulently voted by unauthorized individuals because the system does not have a way to verify the identity of the voter.
Yet here in NC, Americans For Prosperity is promoting and organizing absentee mail-in ballot request even to the point of receiving and forwarding individual ballot requests. AFP's intervention in the mail-in ballot request is technically legal but AFP's intervention in the process has the potential for abuse. There will be no way to know if unfriendly ballot requests make their way into the "round file".
It's not even Labor Day and it already looks like the 2012 election will be as messy and dirty as any general election has ever been.
Update 9/1/12: Strategic Allied Consulting just changed the domain registration of strategicalliedconsulting.com to a private registration, but not before I had captured this screenshot of the original registration information: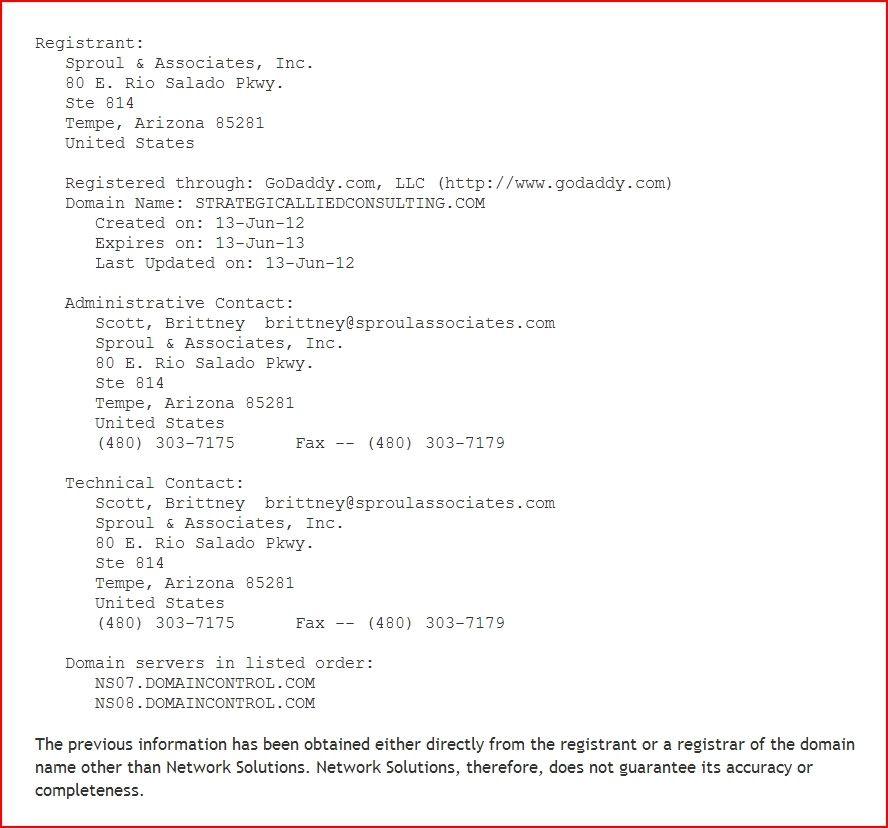 Update 9/2/12: Original intro paragraph re-posted. Seems to have disappeared for a short while.
Update 9/5/12: From a Florida reader
Your article: Republican paid voter registration operation linked to fraud, is exactly what is going on in Palm Beach County, FL. A friend does voter registration there and has run into these paid employees that are also doing voter registration. One thing I didn't see mentioned in your article is that the paid people have registrees fill out a survey before they fill out the registration form. I assume so that they can know which party the registrees are likely to vote for and destroy and Democratic ballots.
Ref: online postings for NC positions:
WANT TO HELP REPUBLICANS WIN IN NC?
We are currently hiring self-motivated people to contact voters for the election.
No experience needed!
We are paying $13/per hour for this program.
WANT TO HELP REPUBLICANS WIN IN NC?
We are currently hiring self-motivated people to contact voters for the election.
No experience needed!
We are paying $11/per hour for this program.

-18 years of age
-Possess valid identification
-Ability to pass a criminal background check (No Felony)
-Have own transportation
-Have cell phone
-Work independently without constant supervision
-Good communication skills & professional appearance
-Mission oriented attitude & team player

-Location: North Carolina Republican Party
Are you interested in helping Mitt Romney win North Carolina? I am with the North Carolina Republican Party working with Voter Registration Projects and am looking for team members to help expand Republican voter registration.

The job deals with expanding Republican voter registration, so speaking to and registering as many Mitt Romney supporters as possible during a work shift. We are looking for outgoing and friendly team members who are comfortable speaking to people they may not know, and who are committed to the Republican party.

A typical day would entail a quick check in to the NC GOP office to sign in and collect a number of registration sheets-- from there I would send out the team members to different places in the greater Raleigh area, where they would approach people about registering to vote. At the end of their shift, the team members would report registration forms and totals to me, which would then be sent off to my superiors and to nationals.

We are looking to begin hiring as early as tomorrow, so that we can get you out in the field as soon as possible. The job would last until the beginning/middle of October and hired members will be paid $11 an hour. This position can be full or part time, or an internship. Those interested would need to send their resumes to me at **********@gmail.com as soon as possible. We would like for team members to have reliable transportation and a cell phone. I have attached a job flyer.

Please let me know!

Thanks,

Liza Steed
Republican Voter Registration Captains Needed
Help GOP candidates win in November and become an integral part a presidential campaign.
Employees will go to high traffic areas, identify conservative voters, ensure that their voter registration is up to date, and then report back at night with their data and the voter registration forms that they collected.

Requirements:
-Must be 18+ years old
-Must be able to pass a criminal and partisan background check
-Must have access to a cellphone and reliable transportation
-Must work 20-40 hours a week with a mandatory Saturday shift

Desired attributes:
-Outgoing personality
-Great interpersonal skills
-Self-motivated
-Eager to help the Republican party

Compensation is $12 an hour and internship credit is available. The position ends October 9th, 2012.
EOE

To apply, submit a resume to:
John Bria
Strategic Allied Consulting
Regional Supervisor
***********@gmail.com