I've been talking with a lot of people about the Republican gubernatorial race lately, and all of the discussions have been about money. Fred Smith and Bill Graham have tons of cash and seem more than willing to spend it to win the honor of losing in the general election to Perdue or Moore. Bob Orr, on the other hand, is not independently wealthy. He does appear, however, to have a direct pipeline to Art Pope, where the money flows free and easy.
We all know that Art Pope has spent the last few years figuring out how pour money from his companies into influencing public elections. To give him credit, he's good at skirting the intent of the law, to my knowledge, and has exercised what I believe to be undue influence in key legislative races. Some fear he could be up to the same old electioneering tricks in the GOP primary for governor. Again, to my knowledge.
At this point, there are more questions than answers:
On April 25, 2007 Justice Orr appeared before the NC Court Of Appeals representing, in part the NC Institute for Constitutional Law, garnering extensive press coverage that included many references to his gubernatorial campaign.

"Coincidently," a fundraising solicitation for the Orr 2008 Campaign Committee arrived in mail boxes the next morning, April 26, 2007. It's almost impossible to imagine the two events were not coordinated.

How do we reconcile the nonprofit NC Institute for Constitutional Law's charter stating, "The Corporation shall not participate in, or otherwise intervene in (including the publishing or distribution of statements) any political campaign on behalf of any candidate for public office" with the NCICL's continued employment of Justice Orr, a declared gubernatorial candidate? Doesn't financially supporting a candidate qualify as "participating" in a political campaign on the candidate's behalf?

NCICL is a tax-exempt entity. It enjoys credits from taxpayers, which means it is effectively subsidized by others - like you, for example. Is it fair for an organization to have tax-exemption if it is also being used to advance a political candidate's campaign?

Justice Orr stated upon resigning from NCICL, he would continue in private legal practice or consulting. Who will be paying him?

If payments are made to him from NCICL, will they be lumped into a general "research category" even though the law requires a breakout for amounts over $50,000?

NCICL's 990 PF tax return was due on January 15, 2007 for their fiscal year 9/01/05 to 8/31/06. I can't find a record of that filing. Who paid whom to do what during this specific time period?
In one of my discussions, someone asked me what I have against Bob Orr. I have nothing against Bob Orr. From all I know he is a very nice guy and people genuinely like him. I believe he is personally honest and committed to much that is good. I just don't much care for some of the company he keeps and I don't understand how he's making ends meet while he runs for governor.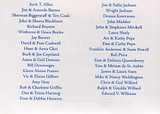 Host list for Orr's upcoming fundraiser. To my knowledge.