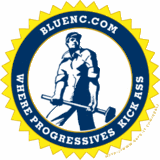 I found this article in Forbes magazine via Progressives States Network. If you don't know about this organization, you should. They do an excellent job finding what's happening in out in the various states and sharing best practices far and wide.
What's notable in this piece is that a mainstream business publication is reading the political tea leaves and discovering where the action really is: in the states. They even have a blueprint for action for building a progressive majority starting at the grassroots level.
Raise the minimum wage. Attack global warming. Negotiate lower prescription drug prices. Extend health coverage to the uninsured. Protect consumers from identity theft. A to-do list for Democrats taking over Congress? Nope, a sample of what states are up to.

If you're the type who prefers that government do as little as possible, you might be heartened by the prospect of a divided Washington that will likely gridlock on significant issues. But watch your back.

The real action will be at the state level, already a hotbed of interventionism that is likely to grow more so now that Washington is split and Democrats have firmer control in state capitals. Next year Democrats will occupy 28 governors' mansions, up from 22. In 16 states, up from 8, they'll have the governorship and both legislative chambers. States moving to one-party Democratic rule include Iowa, Colorado, Massachusetts, Maryland, Oregon and New Hampshire, which was last a Democratic stronghold in 1874. Republicans will have one-party control in 10 states, down from 12.
Just in case there's any confusion, North Carolina is one of those states where Democrats control the government. This is not to say, however, that progressives are a dominant force by any means. Not yet anyway. Which is why BlueNC exists: to help build a powerful core of progressive leaders who will advocate for progressive policies.
As we gear up for the first legislative session in North Carolina history that will be blogged, it's time to get clear about what the best opportunities for progress really are.
The article talks about these issues bubbling up in other states:
Global Warming - California and Northeastern states have taken the lead. Governor Deval Patrick of Massachusetts is expected to do more and there is talk of big action in the Rocky Mountain West, an area likely to be hit hard by climate change.

Privacy and Identity Theft - The financial services industry is hoping the federal government will preempt state privacy laws, for fear that big states will force banks and others to protect privacy nationwide. Oh, the horror!

Prescription Drugs - States have been major leaders. Novack describes California's recent bill "should have pharmaceutical executives reaching for Valium."

Health Insurance - States have already been leading and they aren't going to wait for Washington to continue sitting on its laurels.

Minimum Wage - In the last year, numerous legislatures raised the minimum wage and six more states followed suit through ballot measures. The momentum is predicted to continue to expand to more states in the near future.
I know each of us has our own personal interests, so let's see if we can reach some consensus around the top five initiatives that make sense for North Carolina. For example, I believe we have some very serious work to do around ethics and electioneering issues.
What's on the top of your list?