The latest National Republican Congressional Committee mailer attacking Heath Shuler hit the Hoolie's mailbox today. It uses the ad promoted by the Democratic Congressional Campaign Committee as a platform from which to attack Shuler for not reviling the images of dead Americans. The entire premise is disinformation.
The front of the mailer depicts a young soldier photoshopped in front of what looks like a burning oil well with this caption, "We ask them to stand up for our freedom."
And at the top of the flip side, "But Heath Shuler won't stand up for them." The mailer accuses Shuler of being a shameless politician, going so far as to give him a capitalized title, "Politician Heath Shuler", as though Charles Taylor is somehow less of a politician given his sixteen years in Washington.
The NRCC then goes on to deliver another death blow to irony, "Using these heroes in a cheap attempt to score political points and raise money goes too far." As if we're supposed to overlook that the NRCC is busily exploiting the same dead soldiers on the very mailer we're perusing.
The whole notion is absurd, but we'll break it down for posterity's sake:
1. The Republican Party has avoided showing the American people the truth about the War in Iraq. President Bush has yet to attend a single military funeral.
2. When photos of our fallen soldiers are shown, they are reminders of our choices, our actions, our votes.
3. Charles Taylor's record on Veterans looks like this:
Taylor Voted Against Better Health Care for Veterans and Troops.

In 2005, Taylor opposed efforts to expand access to the military's TRICARE health insurance program to thousands of reservist and National Guard members. The proposal would have expanded military health care to provide access to TRICARE to most members of the Guard and Reserve and their families for a low fee. Also in 2005, Taylor voted for a budget that cut funding for veterans' health care by $13.5 billion.

Taylor Voted Against Granting A Bonus To U.S. Troops, Including Thousands Of North Carolina Troops.

In 2003, Taylor cast a crucial and decisive vote against giving service members a salary bonus in recognition of their service in Iraq and Afghanistan. The amendment would have provided funding to grant a $1,500 bonus to every American service member serving in Iraq and Afghanistan, including National Guard and reserve forces. Just this year, Taylor voted to increase his own salary by thousands of dollars.

Taylor Said the Troops Were Properly Equipped Although They Are Not.

After a 2004 visit to Iraq, Taylor said, "I don't want to say I visited every Guard unit, but none of the ones I did had real concerns about the armor. All the guys said they had plenty of ammunition and adequate body armor." According to a 2005 report by the Marine Corps' inspector general, soldiers fighting in some of the most dangerous terrain in Iraq didn't have enough weapons, communications gear, or properly outfitted vehicles.

Taylor Opposed Increased Spending On Veterans' Health Care And Homeland Security.

In 2005, Taylor voted against an amendment to the 2006 budget resolution to increase spending levels by $15.8 billion. The proposal boosted education, training and social services programs by $8 billion, provided $2.9 billion more veteran's health care and $1.7 billion more for homeland security than the GOP resolution. Furthermore, the amendment would have reduced the deficit by $10 billion and raised $25.8 billion by reducing tax cuts for those earning more than $1 million. The amendment was rejected, 180-242. [HRS 95, Vote #82, 3/17/2005; Failed 180-242; R 3-218; D 176-24; I 1-0]

Taylor Voted to Slash Billions in Funding for Veterans.

In 2003, Taylor voted for a budget resolution that called for cuts of more than $20 billion over 10 years in veterans' benefits, including cuts to disability benefit payments to former soldiers and reductions in money for GI bill benefits and health care. The cuts were made in order to make room for President Bush's tax cuts for the wealthy. The budget passed, 215-212. [HConRes 95, 3/21/2003, Vote# 82; Associated Press. 3/24/2003; Argus Leader. 3/26/2003]

Taylor Opposed $50 Million Increase for Transitional Job Training for Troops.

In 2005, Taylor voted against a proposal to the Fiscal 2005 Supplemental Appropriations bill to increase funding for transitional job training for military personnel by $50 million and military health care by $100 million. The proposed increase failed, 200-229. [HR 1268 , Vote #76, 3/16/2005; Failed 200-229; R 2-226; D 197-3; I 1-0]
And the list goes on and on and on...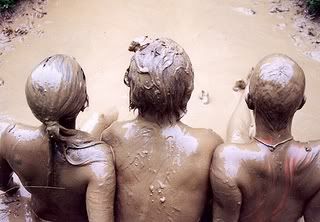 4. Taylor has consistently backed George W. Bush's failed Stay The Course strategy that's resulted in increased terrorism and far less safety for the American people.
5. The NRCC doesn't even think Taylor will win this thing, but they're beholden enough to print nonsensical mailers to confuse and obfuscate voters.
Shameful. Congressman Taylor and his National Republican Party cronies have slung NC-11's House Race into mud as deep as the Nantahala Gorge. With Taylor behind in the polls, don't expect his tactics to suddenly become more enlightened.
Get out the vote for Heath Shuler.