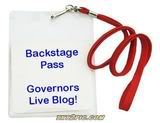 A few days ago, we asked the Moore and Perdue campaigns to join us for a virtual debate here at BlueNC. Today both campaigns said they would like to participate. We don't have a date yet, but we do have clear commitments from both campaigns!
Here's the email we received from Eli Kaplan of the Moore Campaign.
James,

Thank you very much for organizing this. We think it has the potential to be a very interesting format and, like I posted a couple of weeks ago, Richard is committed to participating.

Reading the thread about the virtual gubernatorial debate, there were some concerns expressed about the capacity of the site to handle this kind of format since you've never used it before. We share those concerns and just want to make sure that all of the technical kinks are worked out. I'm sure you would agree that it's in everyone's interest – both of the candidates, the managers of the site, and the BlueNC community generally – to ensure that this runs as smoothly as possible.

Feel free to share this message with your readers if you would like.

Thanks a lot,

Eli
Separately, I received a phone call from Zach Ambrose of the Perdue campaign saying they would participate and would be back in touch soon about possible dates.