For those fans of West Wing out there, you may recall that President Bartlett, when finishing a contentious issue or rallying the troops for a hard vote, would follow it up with those ominous words: "What's Next?" Right now and until that vote is cast and the legislation is signed into law we need to give health care reform our all. But the moment it is signed, we also need to look at what's next. And I'm asking for your help to make sure that is Don't Ask Don't Tell repeal. The time has come to take this next step towards equality, but it'll only happen if we take it together.
Make sure Kay Hagan, a member of the Senate Armed Services Committee, knows where you stand on DADT repeal:
Please give her a call: 202-224-6342. And shoot her a message: http://hagan.senate.gov/contact/

News coverage, many pictures, and civil disobedience beyond the fold...
Earlier this weekend we saw the second round of DADT repeal hearings.

Former Major Mike Almy testifying

We saw the Servicemembers Legal Defense Network, a national organization devoted to assisting those affected by DADT, host a national event.

Lieutenant Colonel Fehrenbach, the now outed 18-year combat aviator whose training cost 25 million, is pictured speaking here. Congressman Murphy, first veteran of the Iraq War to serve in Congress, and a leader on DADT repeal is a part of the event.

We saw those standing up for Equality & for ENDA being arrested for peaceful civil disobedience.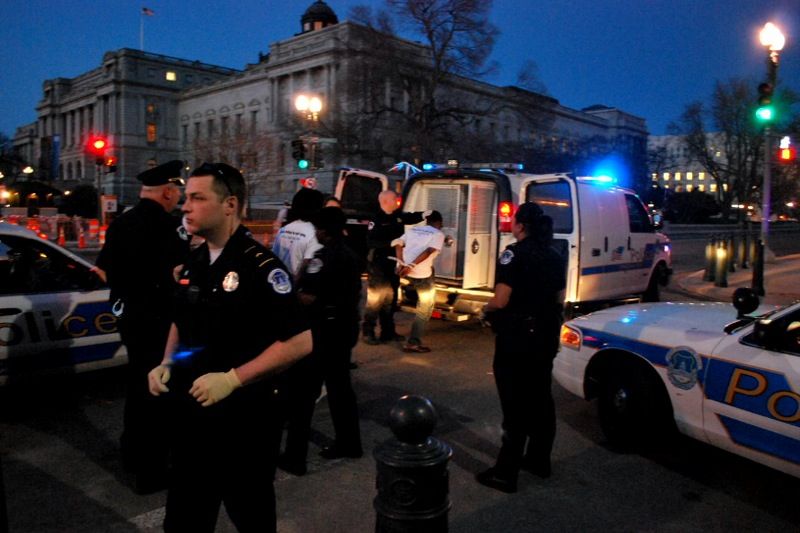 And we saw Lt. Dan Choi and Captain Jim Pietrangelo arrested for their peaceful civil disobedience.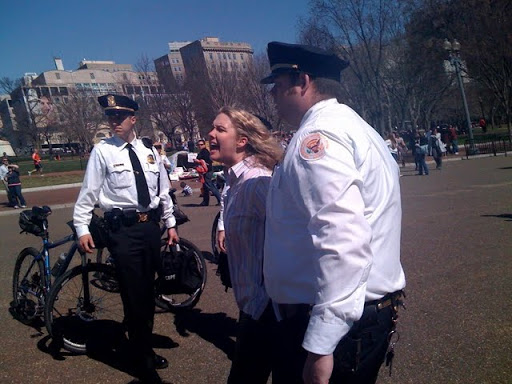 Choi's plea: I'm not ashamed, I'm not finished. Not guilty. He'll now have to head to trial.
As you may recall, the first round of DADT hearings also proved to happen during an active time period of lgbt civil rights struggles, with the national equality march. And although you might not have known it based on relative media coverage, it was larger than the tea party national march around that time.
General Colin Powell who served under Bush, Secretary of Defense Robert Gates who served under President Bush and President Obama, Admiral Michael Mullen the highest ranking officer in the United States armed forces, and General David Petraeus who obviously knows a little something about the current conflicts, all agree that DADT needs to be repealed. President Obama called for DADT repeal during his speech during the National Equality March weekend, and again during the state of the union saying "this year."
DADT repeal proves to have support in the polls, even in NC, where recent polling suggests 67% of democrats and 59% of independents support its repeal. And as luck would have it, we have a senator in this state that says she supports DADT repeal, and who even sits on the Senate Armed Services Committee! No more perfect storm of support on issue or rightness of the cause could occur, and yet, as I look through the list of those cosponsoring the repeal bill, I find her name no where on it.

Please give her a call: 202-224-6342
And shoot her a message: http://hagan.senate.gov/contact/
And remind her that inaction stretched too long becomes complicity.
And remind all your elected officials that this is what's next.