Submitted by James on Sun, 09/01/2013 - 11:25am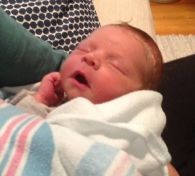 My son and his wife have a sweet little girl named Poppy and a brand new baby named Baldwin. She's one year old, he's one month old. For these two children – and for a million others in North Carolina, we have to get to work.
The first order of business is legal challenges. On the environment, on reproductive rights, on voter suppression, even on Moral Monday arrests, it's time to take it to them. The lawyers representing numerous social justice and environmental groups are on the job, but they need your help. Specifically, they need your contributions. For a list of organizations to support, visit the donate page of my website.
Second, of course, we have to convince enough people to vote our way. What does "enough people" mean? Unfortunately, it means a hell of a lot more than a majority. Gerrymandering has grabbed us by the throat. Statewide, we have to turn out almost two to one just to stay even.
Next November is the perfect time to do just that. Because if what's happening in Raleigh right now isn't motivation enough to throw the bums out, well, I don't know what is.
When I was sitting on a stainless steel bench at the Wake County Detention Center at three in the morning, I could feel the beginnings of change in the air. When I was standing with a crowd of 500 in Chapel Hill last Wednesday, I felt those beginnings growing into full-fledged resistance.
We can win this. We must win this.
Tweet
Tagged: