Dick Cheney is in my district having a private meeting with the Board of Directors of the Charlotte Chamber of Commerce. I hope he's here to do something good like bring back some of our jobs he has sent overseas, but I doubt it is that happy of an occasion. You know today is actually an important day that I doubt he is taking the trouble to celebrate. History tells us that President Roosevelt signed the Social Security Act of 1935 on August 14, but I'm of the opinion that is not the birth of our commitment to our seniors.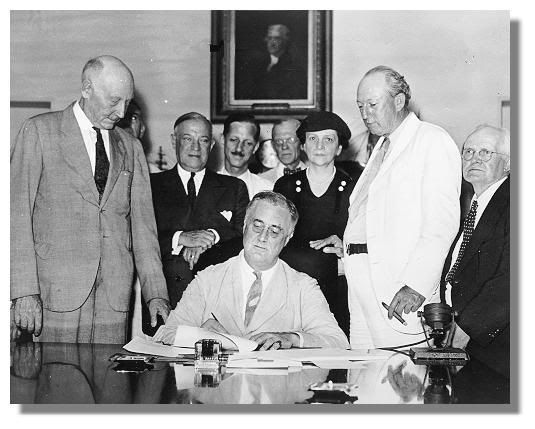 It was actually today's date, January 31, 1940, that our commitment was fully realized in the form of Check #00-000-001 to Ms. Ida May Fuller of Vermont in the amount of $22.54 - bringing life to law, and politics to people, which is what it should all be about.
"It wasn't that I expected anything, mind you, but I knew I'd been paying for something called Social Security and I wanted to ask the people in Rutland about it." ~Ms. Ida May Fuller
Dick Cheney probably doesn't know anyone who lives off of social security and that is why he and his friend, my opponent Robin Hayes, don't realize what is so important about today.
I'm literally about to walk into the New Baptist Covenant Convention in Atlanta, and very hopeful to see Jimmy Carter and Al Gore (I'll keep you posted), but I have the absolute best surrogate a Congressional candidate could hope for celebrating the birth of our Social Security commitment with Seniors in my District - my 94 year old mom.
Mrs. Virene Kissell, a retired teacher herself, is bringing cake, hats, horns, the works to some of our seniors in assisted living situations to help celebrate and reaffirm our commitment to making a difference in the lives of good people like Ms. Ida May Fuller. She'll also probably remind a few folks it's my birthday today too.
If you want to celebrate the birth of Social Security today, and send a strong message to Dick Cheney that politics-as-usual is no longer on the table, please consider donating to our fight in North Carolina's 8th District.
Your $22.54 today in honor of Social Security Check #00-000-001 sends a powerful statement we will never forget our commitments, and will make my mom proud.
Happy Birthday Social Security!