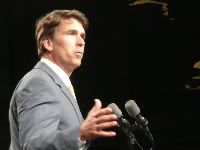 Last week Richard Moore quietly closed out the campaign account for his unsuccessful gubernatorial campaign. He had loaned the campaign $1,250,000 in personal funds of which $288,232 had been repaid. The final report to the State Board of Elections dated 4/7/09 listed $3,055 cash on hand before expenses and $961,768 in forgiven loans. Moore is often mentioned as a potential contender for Richard Burr's Senate seat but reportedly has no plans to run.
By comparison, Beverly Perdue's campaign reported about $350,000 cash on hand and about $900,000 in outstanding loans at the end of 2008. Pat McCrory's campaign committee, not yet closed out, reported about $67,000 cash on hand and no debts or obligations at the end of 2008.
It was two months after a bitter primary before Moore endorsed Perdue, by email. While time may have sweetened the bitterness, a $1 million personal hit has got to sting.