After reading Jim Morrill's article on Thom Tillis this morning, I found myself having deja vu all over again. Could it be possible that the McClatchy news organization in North Carolina is still a wholly owned subsidiary of Variety Wholesalers?
Back in 2006, I reported on the wide gulf between how the the then-independent Charlotte Observer and the News and Observer used Art Pope's Puppetshow for news stories. At the time, the differences were striking and disturbing. Fast forward eight years, with the two papers now under McClatchy ownership, and you'd think things would have improved. And you'd be wrong.
This table shows the number of mentions of various people and organizations on the pages of the N&O and Charlotte Observer. It dashes the myth of the so-called liberal media in North Carolina. Right-wing propaganda finds its way into the paper at four or five time the rate of left-wing propaganda. Call it Stockholm Syndrome, call it making friends. But what ever you call it, it's not an accurate reflection of reality. It is a reflection of undue influence.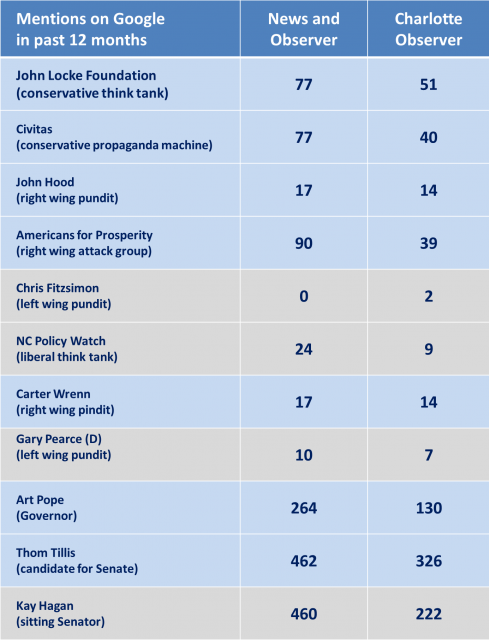 Art Pope still rules the pages of the N&O. From excessive reliance on his think tanks to a near shut-out of liberal voices, the picture is not much less disturbing today than it was when eight years ago, when ombudsman Ted Vaden characterized the Show as a multimillion dollar opinion-manufacturing machine.
You'll hear lots of rationalizations for this bias, everything from "fair and balanced" to "they're newsmakers" and more. It's baloney. The News and Observer has the resources and the independence to make whatever news judgments it wants. It's choosing to rely on Pope sources.
_____________________
A note on methodology. These numbers came from online searches using quotes around the search term on the News and Observer and Charlotte Observer websites. The search was limited to the past 12 months. The method is imprecise, but from experience, it's a pretty good approximation of how what regular readers are seeing.