Brent Woodcox, mouthpiece for the NCGOP, has reprinted an RNC press release with a big fat whopper enclosed. House and Senate Republicans are claiming cap-and-trade will mean a $3100 tax to a family of 2.56 people. They claim to be quoting an MIT study.
To be clear, Brent didn't make up the lie. Instead, he printed it apparently without an edit.

The NRCC put out a press release this afternoon asking if Larry Kissell will raise energy costs for struggling North Carolinians...

:::

Will Larry Kissell Support Devastating Energy Tax?
North Carolina Families Would Suffer from Skyrocketing Home Heating Costs Under "Cap-and-Tax"

Washington- Despite Democrats' promises to deliver tax relief to families who need it the most, the recent budget proposal from the White House includes a "cap-and-trade" provision that should more appropriately be named the "cap-and-tax" provision, because if it became law it would raise energy taxes on every single person who flips on a light switch. As Congress takes the President's federal budget under consideration, North Carolina families deserve to know if Rep. Larry Kissell (D-NC) would support such a devastating energy tax proposal.

:::

Families in North Carolina would be even more drastically affected, as so many families' homes are heated with expensive fuels: MIT researchers released an "Assessment of U.S. Cap-and-Trade Proposals," which shows that the increase would be an increase of more than $3,000 a year for each household. (A Report of the MIT Joint Program on the Science and Policy of Climate Change; Assessment of U.S. Cap and Trade Proposals; http://web.mit.edu/globalchange/www/MITJPSPGC_Rpt146.pdf.)
Shame on you, Brent. Now, maybe you weren't aware that your party leaders were lying through their teeth. Maybe you're just a copy and paste kinda guy. Maybe you honestly think $340 is equal to $3100. I don't know. I think most of the people in your party are that stupid, Brent, but I thought you had at least an ounce of sense.
For those of you who haven't heard Boehner bloviating about this phony $3000 tax supposedly created by cap-and-trade, you can get your fill of Congressional Republicans in this video:
Oh, don't they think they're so smart quoting MIT. The only problem is, they failed to actually read the report they are quoting. Think Progress brings us the other side of the story.

Today, Professor Reilly sent a forceful letter[full text] to Boehner and the Select Committee on Energy Independence and Global Warming to denounce this blatant distortion being told by Congressional Republicans. Reilly noted that $3,100 was actually "10 times the correct estimate which is approximately $340″ and that the costs on lower and middle income households can be "completely offset by returning allowance revenue to these households":

It has come to my attention that an analysis we conducted examining proposals to reduce greenhouse gas emissions, Report No., 146, Assessment of U.S. Cap-and-Trade Proposals, has been misrepresented in recent press releases distributed by the National Republican Congressional Committee. The press release claims our report estimates an average cost per family of a carbon cap and trade program that would meet targets now being discussed in Congress to be over $3,000, but that is nearly 10 times the correct estimate which is approximately $340. […] Our Report 160 shows that the costs on lower and middle income households can be completely offset by returning allowance revenue to these households.
Professor Reilly goes on to say that he had actually spoken with House Republicans back on March 20th and let them know their number was incorrect. From Politicfact:

"It's just wrong. It's wrong in so many ways it's hard to begin."" […]

"Someone from the House Republicans had called me (March 20) and asked about this," Reilly said. "I had explained why the estimate they had was probably incorrect and what they should do to correct it, but I think this wrong number was already floating around by that time."
They had time to make a correction. They've known for almost two weeks that their numbers were wrong. This leads us to only one conclusion. House and Senate Republicans are willfully lying to the American people. Big surprise, right? The RNC is willfully choosing to spread that lie through press releases sent out to state parties and now the NCGOP is choosing to spread that lie throughout North Carolina by printing that press release in its entirety without commentary to correct the lie.
Since Brent and the NCGOP won't correct the lie, I'll post a couple of pretty good explanations of how this lie got started and you can decide which one works best. First, Think Progress thinks it is a problem with math:

House Republicans apparently took the total revenues from the hypothetical cap and trade system that MIT analyzed and crudely divided it by the number of households in America, getting approximately $3,100 per family.

What they don't mention, however, is that not only did John Reilly explicitly tell them that this was an inappropriate way to do this calculation, but that MIT had determined the net welfare effect on a typical family and the burden would be less than 1/40th what they claim, and wouldn't occur until 2015.

As PolitiFact explains: "The report did include an estimate of the net cost to individuals, called the "welfare" cost. It would be $30.89 per person in 2015, or $79 per family if you use the same average household size the Republicans used of 2.56 people." In exchange, we'd get a clean & renewable energy economy, decreased reliance on oil, and a safer climate for the world.

The reason Boehner's methodology is totally inappropriate?

"That's just not how economists calculate the cost of a tax proposal, Reilly said. The tax might push the price of carbon-based fuels up a bit, but other results of a cap-and-trade program, such as increased conservation and more competition from other fuel sources, would put downward pressure on prices. Moreover, consumers would get some of the tax back from the government in some form. [In this case,President Obama wants to use revenues from cap-and-trade to fund a tax cut for 95% of working families]"
Oh.How.Embarrassing.
The second explanation of what has happened comes to us from Pete Altman from Natural Resources Defense Center. He says it started with a bullet point in a memo sent around by notorious climate change denier, Senator Jim Inhofe who referenced the MIT study. Altman found a chart that references a disbursement of $3100 in the report.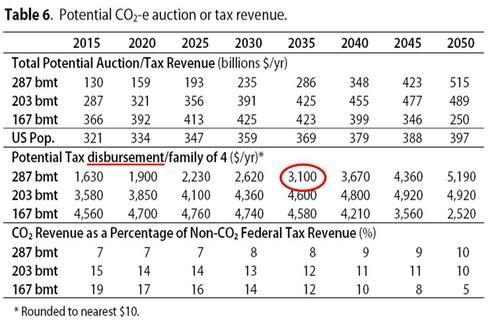 We know how confused Republicans get when they look at numbers. These are, after all, the same Republicans who put together a budget that had no numbers in it....just words and pictures. It isn't a leap to see how they might also confuse the terms, "disbursement" and "tax." If they can't count, they probably aren't all that good with reading or reading comprehension either.
Putzes. Putzes. Putzes and liars.