The Durham Herald Sun is featuring a story today about an uproar over a photo that emerged of a Chapel Hill police officer at the "Silent Sam" rally displaying tattoos associated with known violent white supremacist groups that took part in the massacre at Charlottesville.
You can read the Chief's statement in the Herald Sun piece, but there's an important point to make here: the police officer, not identified by the article or the department, was not dismissed, but told to "cover up" the tattoos.
The officer "has responded to our concerns about his tattoo. He expressed regret that his tattoo has been associated with groups that perpetuate hatred and violence.

"We understand the concerns regarding the negative interpretations of the tattoo and regret it was displayed. This will not occur again.

"We also want to emphasize that the negative interpretation of that tattoo is inconsistent with the values and mission of our department. We expect employees to abide by our values in the performance of their duties for the Town."
Why is this police officer still employed by the Chapel Hill police department?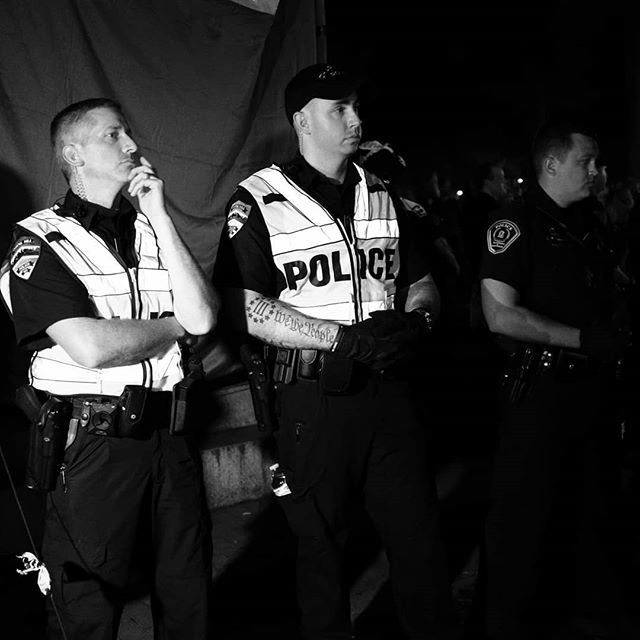 "He expressed regret that his tattoo has been associated with groups that perpetuate hatred and violence" is a perfect example of white nationalist gaslighting. It's similar to the "heritage not hate" movement that emerged about displays of the Confederate flag and monuments - it's simply a way to conceal true intentions and normalize a hate symbol to the general public.
Police departments, such as those in Chapel Hill, shouldn't be hiring officers who display white supremicists or fascists tattoos in the first place - the meaning of these symbols is well known and trying to deny their actual meaning is simply lying. If someone doesn't agree with these extremist racist and bigoted views, they would have these permanent skin markings removed or permanently covered up.
I would urge everyone reading this post to check out an essential video on YouTube. It runs about 25 minutes - grab a cup of coffee, get comfortable, and get educated on the tactics that white supremacists and fascists use with "normies" to operate in plain site and dupe others - like the chief of the Chapel Hill police - to allow them to continue to operate in our communities.