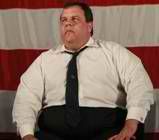 The massive parade float, fashioned in the likeness of New Jersey Governor Chris Christie, was transported from the Garden State by rail and inflated just outside of town before the event. The crowd was mostly unharmed, although one man was treated at the scene with multiple abrasions from the bricks of a building he was trapped against. When asked how this could happen, a spokesman for the Governor replied:
"I don't understand it. We walked the route beforehand, and he should have been able to sail right through there. I can only assume being this close to such a high concentration of succulent hams caused him to swell up."
Allright, here's the real story, if you must have it:
Pat McCrory repeatedly referred to Chris Christie as "boss," which could have been a reference to the New Jersey governor's sometimes blustery style, New Jersey's mob image or even Christie's well-known love of rocker Bruce Springsteen.

Christie, in turn, repeatedly referred to the Republican McCrory as the next North Carolina governor and, playing to regional stereotypes, quipped that he was going to come down and get in some people's faces if North Carolina didn't go red on Nov. 6.
Yeah, a real tough guy. The more likely reason Christie would travel back to North Carolina is to avoid tough questions at home:
"It was once again nice to see Gov. Christie stop by New Jersey, but unfortunately he'll find nothing has changed since the last time he took a break from touring the nation on behalf of anti-women and anti-middle class Republicans," Assembly Majority Leader Lou Greenwald (D-6) said. The middle-class, sadly, continues to suffer under Gov. Christie. Unemployment is still 9.8 percent. Women have still lost vital health care funding. Property taxes are still up a net 20 percent.

"New Jersey still ranks 47th in economic growth. The state budget is still facing a shortfall. New Jersey is still second in the nation in foreclosures," the majority leader added. "Gov. Christie's veto of the Democratic plan to triple middle-class property tax relief credits still stands.

"With failures like that, it's no wonder Gov. Christie spends so much time focused elsewhere. Gov. Christie likes to entertain himself by talking a good game, but his empty words cannot make up for his failures on behalf of New Jersey's middle-class."
If anybody can outdo Christie in mismanagement of state affairs, it's Pat McCrory. Especially if he's got a super-majority Republican Legislature feeding him bad ideas for his rubber stamp.