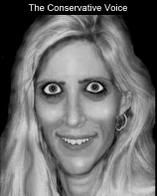 Every few weeks I stop by the cesspool called The Conservative Voice to see if Nathan Tabor has seen the light and dropped the Coulter Witch from his list of cherished columnists. As you may recall, I promised I'd give the kid a break if he'd do the right thing and stop sleazing up the world with Coulter's vile diatribes. No such luck. Nate and Annie are still best buddies.

In her latest screed, Coulter has this to say:
Q: Why is abortion sacrosanct to the left? Why have Democrats chosen this as their hill to die on? Why is evolution so important to liberals?

A: Because they basically want to depopulate the world of human beings, hence their love of abortion and their commitment to a belief system that does not distinguish men from lower beasts.
Why does Nathan Tabor want to associated with a person like this? Does this commentary reflect the true essence of the Conservative Voice? It's no wonder the conservative movement in America is going down in flames. I'm guessing it won't be too long before the Puppetmaster's money runs out and Nate can get a real job mopping up Ann's hate. Somebody's going to have to.