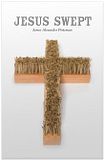 I'm writing about my new novel, Jesus Swept. Your book review team concluded this week that it's not your style, that "you don't do books like this." With all due respect, that's a punch of bull. Jesus Swept is right down your alley. A strike if there ever was one.
Seriously. Jesus Swept would be more at home on this list than some of the books already on it.
Maybe what you meant to say is "we're really busy, try again later?" Okay. I'll take that. Just tell me who to send a review copy to.
Thanks for this supreme indulgence.
A friend and loyal reader,
James