This is the sweet face who usually gets me out of bed every morning.
But, once out of bed, stronger medicine is required. My habit for the last several years has been to drink many warm cups of coffee while doing morning chores; dishes, reading, lunches, writing, taking to school, commenting, getting ready for work, etc. I'm sure I don't have to tell you that when one so set in her ways as I is denied a morning habit, the world -- in that home, anyway -- goes still on its axis. It is Tragedy. There is no other way to describe it. There is wailing and gnashing of teeth. It was a rip in my personal space/time continuum, that moment of realization; today, Leslie H, you will not, can not, have that wonderful creation from Nature's God, caffeine.
Yes, we Americans love her; the lowly coffee bean.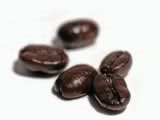 We love her, for she is magic. She can wake us up when we've had only a few hours sleep and make us actually believe we can function. Some of us are addicted to her. I would be one of those "some."
The morning of which I speak was like any other morning. It was a Monday. Tragedy struck without warning. My coffee maker hadn't been sick. I had just made a full pot the previous day. The grinder worked fine. Water came out of my kitchen spigot just fine. There were plenty of filters in the cabinet. No dispiriting spills of black coffee dust marred the morning ritual this day. No, everything was perfect. Until I pushed the button. Nothing. Check the plug. Nothing. Turn it off and on again. Nothing.
You know that feeling? ... the rush of panic you can almost hear swell in your gut and in the back of your mind when just before escapes your lips, "oh. shit." and your eyes start to get a little more watery than they were just a split second ago? Well, that was me on this morning.
I looked for my camping coffee pot.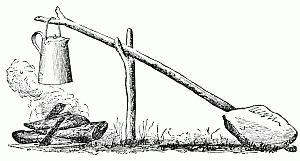 Nowhere. Oh, god, did I put it out in the storage shed!? AAhhhh!
My elbows on the counter and my head in my hands I remembered a poem I had started long ago after a romantic dream had gone sour. It came flooding back and I realized how very weirdly appropriate it was. I added the final lines. And here it is, my heart on my sleeve for you, my friends. If this helps just one person get through a similar very bad no good horrible hard place, my work here is done.
On the Death of my Pre-Dawn Light
Hear the ripping deep roar far back in her
Soul like the groan of a falling timber
I fight to stop me; me, my own physician,
Kicking screaming drags my guts through the medicine
of tears. Reason, a hard therapist, pounds
my memories to jar them and beat out
The sweet that stings like too much honey
In my throat and fades away too slowly.
You were gentle, warm, simple and easy;
My one friend full of wakeup and pleasing
Perfume you turned on bubbly filling night
Eyes and arms with morning lively and light
I watch nothing happen in the cold predawn
Lost, praying your light -- please, please -- comes back on.
But wait! Last year for my birthday my lovely son gave me something ... yes, I remember ...w00T!! Where did I put that thing??
::::rummage, rummage, scatter, scatter, open cabinets, pull stuff out, close cabinets::::
Bon jour, mon ami. :-)
I LOVE THE FRENCH!!