The Jefferson Inn in downtown Southern Pines was the location of the annual Democratic Women of Moore County meeting. This recently renovated 100 + year hotel promotes itself as a boutique hotel and fits the description; stylishly themed and quirky.
The dining room was filled to capacity with possibly one or two empty seats. The atmosphere crackled with the excitement of the upcoming events on our pathway to true change. Jerry Meek, the North Carolina Democratic Party's Chair was the guest speaker and four candidates for office were working the crowd.
Bobbie Burrell, the outgoing President welcomed everyone, offering the candidates an opportunity to speak "a sentence or two" about themselves.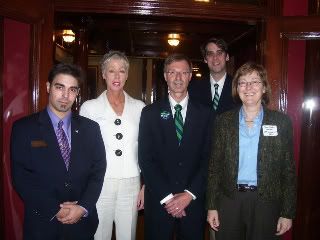 Betty Mangum running for NC House 52 introduced herself and encouraged everyone to vote. Teresa Sue Bratton and Jay Ovittore both running for the 6th Congressional District and Beth Wood running for State Auditor did their best to keep their intros to 3 sentences. Teresa is in the process of getting her website up, candidates are starting to get how important a web presence can be to their campaign.
Every time I hear Jerry Meek speak I wonder the same thing as the gentleman that asked, "Will you run against Elizabeth Dole?" Ok, not that he'd run against Dole, but for some elected position. He's inspiring, he's knowledgeable and he radiates democratic values. One gentleman, impressed with Jerry's speech asked if copies were available to use as talking points. Dan Besse came in late so was allowed to say 2 sentences, (I think they were the best 2 run-on sentences I've ever heard.)
The luncheon meeting concluded with the installation of the new officers by Jerry Meek

(how cool was that?) and the presentation of the gavel from the outgoing to the incoming President.
Brian Deaton, the Moore County Party Chair fervently encouraged everyone to attend their March 11 precinct meetings.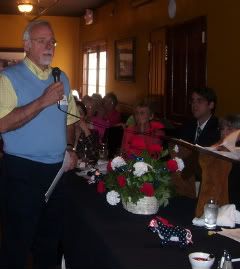 He also praised the Constructing Victory program and asked everyone to pledge his or her commitment to the program and join. "With this tool, we can turn Moore County Blue!"