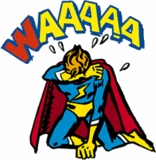 It seems like the end of the year is causing a rash of stupidity inside the Party of Greed, as evidenced by this story in the Washington Post. There's no strong North Carolina tie-in, but it's just too good to let pass.
As you many know, the new Democratic leadership in the House of Representatives is committed to changing business as usual. One specific action they're taking is to actually put in the time it takes to do the people's business.
Forget the minimum wage. Or outsourcing jobs overseas. The labor issue most on the minds of members of Congress yesterday was their own: They will have to work five days a week starting in January.
And how do members of the Party of Greed respond? By whining like the spoiled brats that they are:
"Keeping us up here eats away at families," said Rep. Jack Kingston (R-Ga.), who typically flies home on Thursdays and returns to Washington on Tuesdays. "Marriages suffer. The Democrats could care less about families -- that's what this says."
I don't know Jack Kingston from Adam, but I know this. He's almost as pathetic as Robin "Flipper" Hayes. (There, I found a North Carolina angle!) Get your ass to work, Kingston, or get another frickin' job.