Saturday, April 21st, the Moore County Democratic Party held a fundraising luncheon at Little River Golf and Resort in Carthage. There were over 200 good dems in attendance and we were fortunate to have a great keynote speaker, Governor Jim Hunt.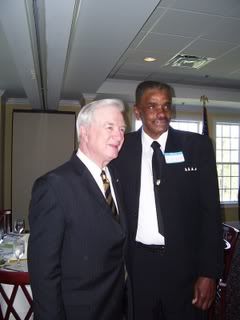 The theme of the luncheon was "Celebrating Educational Leadership", and the two people that were celebrated this day were Evelyn "Ebby" Bruton Monroe and Rep. T. Clyde Auman (deceased), both hardworking and faithful Dems.
As most of you know, I have been taking a class provided by Moore County to help the citizens better understand how our government works and what it takes in both man-power and finances. Ebby has also been attending and we have all been blessed to have her there to ask the right questions. It wasn't until this luncheon that I realized just how hard she has worked behind the scenes in North Carolina Democratic policies.
Florence Gilkeson, Senior writer at The Pilot Newspaper wrote a great article on both Ebby and T. Clyde,

The Moore County Democratic Party will honor Evelyn Bruton Monroe at a luncheon fundraiser Saturday. The party will honor the memory of another faithful Democrat and a man also linked with education: former state Rep. T. Clyde Auman…..Monroe says most of what she knows about Moore County politics she learned from Clyde Auman….."Being involved in politics is about taking care of each other. Taking care of each other includes making sure all people have an opportunity to be educated, to live healthy lives and to be kept safe from harm," she says. "Taking care of each other also means protecting our environment and respecting the individual rights of all."
Please follow the link and read about this amazing woman. (I hope to get an interview with her in the very near future.)
The room was so crowded that I didn't see him or even know that he was there, that was until Blanchie D. Carter recognized all the distinguished guests and welcomed Larry and Tina Kissell. They weren't there to campaigned or to raise money, they were there to support the Moore County Democratic Party. Earlier that morning they had been at the Cumberland County Convention lending their support, but still made time to come by to honor two great Democrats.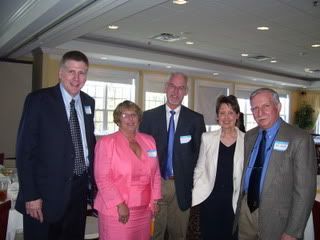 Here is a picture to treasure, two stellar Democrats and Educators>

I have been told many times in my life that I was born with a horseshoe up my…ahem….butt. It must be true, I often find myself in the right place at the right time. I am the vice chair of the West End Precinct, the Chair is the grandson of Rep. T. Clyde, Ed Auman and one of our delegates is T. Clyde's son, Watts Auman. These are people that have worked hard in Moore County to keep the Democratic Party going, even when the overwhelming majority of the County has gone Republican.
It was such a treat to listen to Gov. Hunt and I was able to speak to him (and get my picture taken with him).



(not a good pic of me, but a great one of Gov. Hunt!)
Of course my first question to him was if he had ever heard of the blog, BlueNC? He said that he had not, but after I filled him in on our Blue Community, he said that he would visit. My next question was if he would support Brad Miller in a run against Dole's seat in 2008. He told me that he had a telephone conversation with Brad the night before and that he told him that to win the race, he would need the support of the Democratic National Convention because he felt that Brad would not be able to raise the money needed to win. I asked Gov. Hunt if he was aware that Ms. Dole had stated that her goal was to raise $1 million per month in the first quarter and she only raised $1.7 million? He admitted that he had not heard that. "Governor Hunt", I said, "you would know this if you read BlueNC, we keep track of our politicians…." Later on, after the luncheon, as I walked by him, he reached his hand out and put it on my shoulder and said to the man next to him, "This is our blogger". See, I AM one lucky girl!