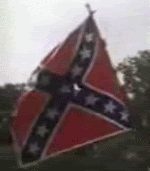 Don't Forget this Holiday: the Birthday of Robert E. Lee
 
This is how the John Locke Foundation has acknowledged today's holiday in a post on their blog Friday. No other reference to today's Martin Luther King Jr holiday appears at the John Locke Foundation or Carolina Journal websites.
I think they owe an apology to Larry The Cable Guy with the Git-R-Done reference even if they won't apologize to the African-American community. Perhaps they think it's ok because the insult is bi-partisan.
             ...more below the fold...

The last time the John Locke Foundation acknowledged today's holiday was in the February 2005 issue of Carolina Journal:
UNC Schools Celebrate King With Music, Drama, Democrats

By JON SANDERS
Assistant Editor
Parades, music, drama, prayer breakfasts, and speakers helped University of North Carolina schools celebrate Martin Luther King Jr. Day.
Apparently they couldn't find any Republicans celebrating Martin Luther King Jr Day and exercising their First Amendment rights on campus.
Maybe John Hood can't remember saying this in the November 2004 issue of Carolina Journal:
"Because in a public university obviously the First Amendment protections apply."
That comment and the following came in an interview by Hood with Alan Charles Kors of the "Foundation for Individual Rights in Education" who said:
If you could imagine what would happen on American campuses if someone immersed a portrait of Martin Luther King, Jr. in urine, the university would close for days of conscience, heads would roll and sensitivity training would become mandatory.
It's probably just as well they don't talk about Martin Luther King, Jr, too much even though he is a champion of individual rights. It seems they have trouble talking about him without making reference to bodily functions:
Appalachian State University hosted Chuck D as its keynote speaker. The former rapper last year performed at a notorious MoveOn.org fund-raiser, where he warned of "eight years run by a Colon, a Bush, and a Dick." He also said that "Americanization is like McDonaldization" and, according to Matt Drudge, "appear[ed] to refer to American government under Bush administration as 'cancer of civilization.'"
Chuck D did not make those statements at ASU but the Carolina Journal chose to dig them up. It's nice to know that Art Pope is paying these guys to do research based on Matt Drudge to sully the name of a true champion of individual rights.