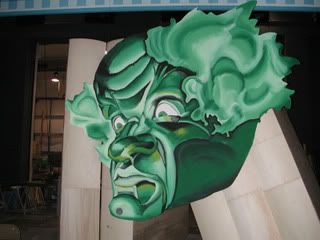 Stagemanager Hood must have had an easy time writing today's column over at the JLF Puppetshow. He's calling for all sorts of legislative and electoral reforms. The problem is, he's been scooped by Speaker Joe Hackney who has already declared that the issues Hood's writing about will become the House Rules.
So instead of actually adding value to the discussion, Hood trolls in the dirty waters still swirling around Jim Black, who has been fully discredited and will likely end up in jail for his transgressions. But that doesn't stop the Stagemanger from stomping his feet and pounding his fists as though he has something meaningful to say.
To regain the public trust, and to set right at least some of what has gone so horribly wrong, state policymakers must be forthright, resolute, and bold. They should recognize that corruption has tainted past legislative action, and that in the future their work will be judged not simply by the intended ends but by whether the means used to enact the legislation were just.
With all due respect, that's exactly what Joe Hackney is doing. There is nothing in Hood's rant that isn't already in play, with the possible exception of this:
. . . while reforming parts of the new law that appear to infringe on the right of any individual or group to express views publicly about state issues without requiring governmental sanction.
Ah, now you see what Hood is really worried about. Because for all his hand-wringing about democracy and fairness, Hood remains nothing but a shill for Art "the Puppetmaster" Pope, a man who appears to believe, like Hood, that anything can be bought and sold - including public offices. In this case, Hood's arguing to preserve the right of his sugar-daddy to engage in the anti-democratic practice of using corporate money to influence state elections.
This issue lies at the core of free market fundamentalism in North Carolina. Hood and the guy holding his strings see nothing wrong with rich CEO's pouring millions of corporate dollars into public elections to get the guys they want into office. It happened with Hairdresser Joe Boylan in 2006, and they're lining up to do the same thing with Spongebob Orr in 2008. Having perfected the practice of Electioneering 101, the Puppetmaster and his 527 group (RLM) will soon be attempting to buy the governor's mansion, too.
(My guess is the Puppetmaster's really pissed that Black bought Decker - and control of the House - for a mere $25,000 or so, while it cost Pope a couple hundred grand just to get one seat for the Hairdresser . . . but that's another story.)
The truth is, few of these fundamentalist extremists could ever be elected on their own merits without the infusion of corporate dollars from PopeCo. Having lost his own bid for lieutenant governor years ago, Mr. Pope appears hell-bent on gaining what he considers his rightful influence on North Carolina politics. The revenge of the Puppetmaster will be with us for years to come.
So you'll forgive me if I laugh when Mr. Hood starts talking about ethics and fairness in politics. He's just doing what the man behind the curtain wants. To my knowledge.