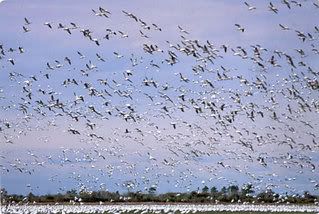 There's a great column in the News and Observer today by Laura Marciniak about the Navy's insane plan to build an outlying landing field in Washington County.
All that nice open land probably looks good from 10,000 feet in the air. The northeastern section of North Carolina is some of the last undeveloped land on the Eastern seaboard. You can see it yourself from Google Earth. But what you can't see from a plane or a satellite is what's taking place on the ground.

The family farmers and the birds of the wildlife refuges have a symbiotic relationship. The birds do more than eat the farmers' leavings of grain and corn. They also leave nitrogen for the next crop and they dine on insects and weeds. Good land stewardship should be rewarded, not betrayed.

In these days of heightened national security you don't hear much mention of one of America's most vital interests, our food supply. As we continue to export jobs and import food, I hope that we as a nation don't come to rue the day that we didn't stand up and protect some of our true American heroes -- our family farmers.

(Laura Marciniak is retired from the U.S. Air Force, where she worked on jet aircraft in Texas and South Korea and debriefed pilots on maintenance issues. She also has a degree in biology.)
Good for the N&O and editorial page editor Steve Ford for jumping into this issue with both feet. Too bad our so-called US Senators don't have the same concern for North Carolina that the newspaper does.
(Thanks for Unique for digging this one up and passing it along to me.)