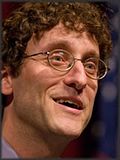 We're happy to have health policy expert John Oberlander visiting our Sunday night political salon tonight in Chapel Hill. Here's an interview with him on NPR. I'll try to keep up with what he's saying. If you have questions, please ask.
"No one's trying to scare people with sound bites. I mean, you know, I've not done that, and I don't know any of the leaders in the House and Senate that have done that," Republican National Committee Chairman Michael Steele said on NPR earlier this week. But that's not convincing to many political scientists like Oberlander, who say they're hearing a lot of what they consider to be deliberate scare tactics.

"Fear is crowding out the truth. And the truth ought to count for something in health care reform and American politics. And right now it doesn't," Oberlander says.

The current debate isn't yet over, but so far at least, biology has defeated logic every time.
Should be interesting.
__________________________________________________