I think this is kind of big news...I haven't been able to confirm this, but I might be the first out lesbian columnist for the News & Observer. I might be the first out lesbian columnist for a major newspaper in NC; I have no idea. Anyway, my column will appear in The Durham News, its Bull City community edition. It's a monthly column (I rotate with other local folks), a gig for six months.
Mark Schultz, the editor of TDN and The Chapel Hill News (as well as one of the Western Triangle editors for The News & Observer) just asked me out of the blue to do this. I was recommended by one of my old pals and former neighbor in Old West Durham, John Schelp, since I'm a Durham native. It's a small world.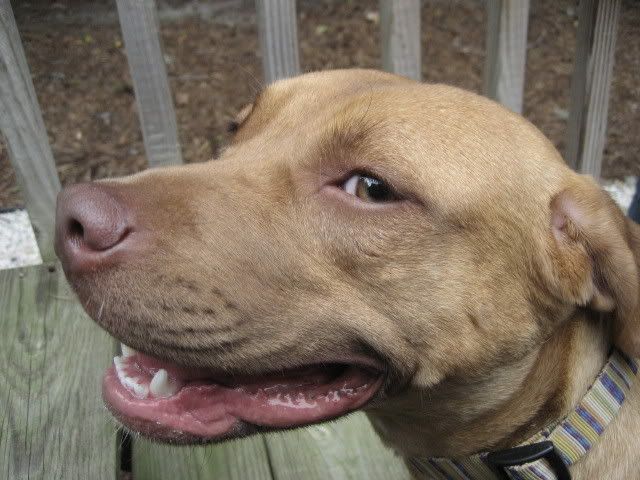 My column will not be about national politics, since this about community flavor, but that doesn't mean it won't be political in nature. The first piece will be familiar to regular readers here at my place -- it's about breed-specific discrimination when it comes to American Pit Bull Terriers, since I adopted Casey from a local shelter last year and have come up against bias around here that reminds me all too much of racial discrimination. I only get about 650 words to jabber on -- no freedom for endless commentary like I have over at my virtual coffeehouse, Pam's House Blend.

I thought I'd ease the local readers in to get to know me before addressing that pesky marriage amendment in the state, and what it means for a same-sex (married in Canada) couple right here in the Bull City. Hopefully the column will put a face on the issue; it makes it harder for those who oppose you to deny your humanity when the message comes from someone you may live near, who deals with the same local issues -- even mundane matters -- that they do. You have to start somewhere.
Mark has an intro post up over at the Raleigh main edition -- feel free to drop by in the N&O comments. It probably won't be long before the wingnuts that frequent the N&O's threads descend and start bleating away with homophobia. At least the sane commenters stopped by to thrash a homophobic op-ed by one of the NC4Marriage proponents. Good times.
I asked Mark if there would be comments enabled over at The Durham News columnist section, but apparently not, which is too bad. I like getting feedback and the fact of the matter is, more people know about me and the blog in virtual space or in DC than right here in Durham, so I'm curious about what locals will think about my columns.