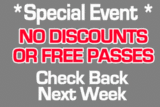 An awesome email from Schorr Johnson of the North Carolina Democratic Party.
~~~~~~~~~~~~~~~~~~~~~~~~~~~~~~~~~
Robin Hayes Might Have Bought Himself Two More Years in Office, But He Didn't Buy Silence
Raleigh—
121,523 = Votes cast in the 8th Congressional District
$2,000,000 = Approximate amount spent by Robin Hayes in the 2006 campaign
$450,000 = Approximate amount spent by Larry Kissell in the race
327 = Robin Hayes' margin of victory
$32.83 = Approximate amount Hayes spent per vote
$7.43 = Approximate amount Kissell spent per vote
697 = Days until the 2008 election
0 = Days the North Carolina Democratic Party will give Robin Hayes a "pass."

Today's Raleigh News and Observer reports, "U.S. Rep. Robin Hayes, a Concord Republican, is trying to stop House votes this week on free-trade deals with Vietnam and Haiti. He believes both deals, favored by President Bush and many Republicans, could hurt North Carolina's textile interests, according to his spokeswoman."
0 = Number of times Hayes has stood up to the Bush Administration on free trade
2 = Number of times Hayes caved in to Bush Administration pressure and supported free trade
10,000 = Approximate loss of textile jobs in the 8th District since Hayes took office

Robin Hayes is saying one thing, will he do another?

North Carolina Democratic Party Chair Jerry Meek said, "Robin Hayes might have bought himself two more years in office by outspending his opponent 4:1 in a low-turnout election, but he didn't buy silence. Today's report reminds me of how Hayes was 'flat-out, completely, horizontally opposed to CAFTA.' The issues in the 2006 campaign aren't going away."

"Thankfully, Robin Hayes will get a new experience in Congress next month: his first term in the minority. Did Robin Hayes get the message the American people sent on November 7th? The people of the 8th District and the North Carolina Democratic Party will be watching."

~~~~~~~~~~~~~~~~~~~~~~~~~~~~~~~~~~~~~~~

I love this rapid response by the NCDP. I love the idea of putting Flipper and the other Party of Greed representatives on notice all day every day. I love the idea of Kissell running hard against Hayes from the get-go, watching his every move and reminding North Carolina again and again of what a worthless piece of nothing Robin Hayes has been in Congress. I love the idea of giving no breathing room, no passes, no breaks, no benefits of the doubt, and no quarter to these people who have methodically destroyed the integrity and honor of our government and our democracy.

Boom. Boom. Boom.

Thank you NCDP.