It was fun standing in the cold rain for two hours for tickets on Saturday and again on Tuesday with the 8,000 students who whooped, hollered, and even amened for Obama. Photos below the fold.
A perfect venue, I remember watching Michael Jordan play for the Heels in Carmichael Gym. It was kinda like that bball game, with the marching band playing and everyone anticipating being able to tell their grandkids about what they'd seen.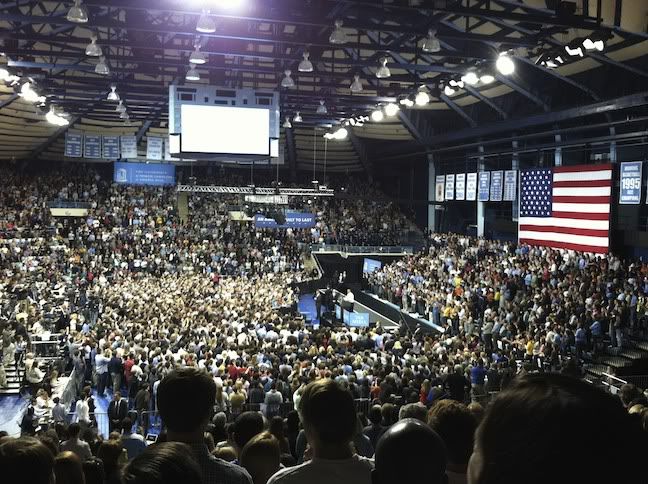 ">
Obama was relaxed, in his shirt sleeves, and enlivened by the enthusiastic love fest. He recognized Governor Perdue and David Price who had driven in with him from the airport, and said he loved North Carolina cause even those who didn't vote for him were still nice.
The topic was increasing the interest rate on student loans. We came away wishing Obama had been as clear and assertive about some of the other issues we care about.
Obama spoke for about 45 minutes and then was taken across campus to "slow jam the news" on the Jimmy Fallon show that was taped with a packed house of over the top UNC seniors who had just finished their last day of class.