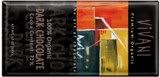 Dick Burr continues to shill for Big Tobacco and will try to filibuster to defend their right to addict and kill Americans.

MoveOn excoriates the Republican senators for blocking debate on escalating Bush's war.

Chris Fitzsimon smacks down Pope Puppet George Leef for being lame-assed mouthpiece for the Party of Greed.

I figured three entries in a row with "dark" in the title would be a BlueNC record. Hence the yummy chocolate!