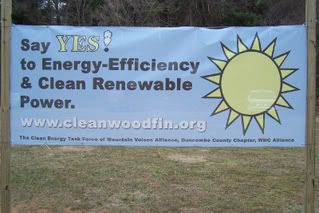 Conservation and open democracy proved to be universal values at Mountain Voices Alliance Clean Energy Task Force, held in Woodfin this past Saturday from 10-1 and again from 1-4. The two sessions drew about a hundred residents hungry for information and options regarding the despised proposal for a diesel-fired power plant in Woodfin. Asheville City Councilman Brownie Newman attended the morning session, and NC Representative Charles Thomas opened the afternoon session.
A half-dozen organizations, including MVA and Rising Tide, spread information regarding a proposed Democratic Party resolution against the diesel plant, the legislative path of the power plant's approval, and initiatives to fight the plant. The groups have come together under the banner of creating a healthy energy future for Buncombe County.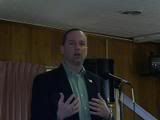 Representative Thomas, a Republican and self-confessed "nerd" regarding technical aspects of energy production, wowed the crowd of conservationists and environmentalists with his comprehensive knowledge of the subject. Thomas reported requesting Progress Energy's raw data concerning area power needs, and he stated that he'll make that information public, "Yes, it doesn't help to stop the flow of information".
Thomas espoused alternative energy sources including "micro hydro", and he pointed the crowd to a website, hgenergy.com. Others pointed out that this area is blessed with nearly every variety of alternative energies available.
When asked why he thought the commission conducted two years of meetings behind closed doors before passing the unpopular measure, Thomas replied that the commission's actions were "somewhat irritating" and that "I found out the same way you did – in the newspaper."
Thomas explained that he's asked manufacturers of the power plant's turbines if they can be adapted for biodiesel. When asked how he felt people could be most effective at the state level, he responded, "Keep the letters and emails coming. Don't send me a bunch of emails, I'm already working on this. Promote H77 and make friendly pressure on the others." H77 is a bill that would mandate that 20% of the state's energy would be produced through alternative and renewable resources. The bill is cosponsored by Representatives Susan Fisher, Bruce Goforth, Thomas, and others.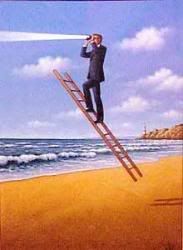 When a Republican has the good sense to act like a Democrat, we ought to have the good sense to partner with him. Representatives Susan Fisher and Bruce Goforth as well as Senators Nesbitt and Apodoca were absent from the open community forum, and many asked whether they intend to take a public stand against the power plant.
Saturday's Task Force brought together some of the best, brightest, and most energetic segments of the conservation-minded electorate. With almost universal opposition to the commission's clandestine negotiations and unnecessarily hazardous proposal, this diesel power plant requires only our sustained efforts to go down to an ignominious defeat. Area alternative energy experts are already creating counter proposals to provide for our energy future in ways that promote conservation and depend exclusively on renewable, clean sources.
So please write to the Commissioners (especially Gantt and Young), asking them to move to rescind the lease to Progress Energy. Write Representatives Fisher and Goforth and ask them to come out in support of alternatives. Call Senators Apodoca and Nesbitt about their willingness to support H77 and encourage our alternative energy entrepreneurs. And get in touch with Congressman Heath Shuler's office to thank him for his initiative to make western North Carolina a "Research Triangle for Alternative Energies" and to support his directing monies to make our district a national leader in sustainable energy technologies.

Email the county commission
Email Susan Fisher (District 114), Bruce Goforth (District 115)
Email Tom Apodaca (District 48), Martin L. Nesbitt, Jr. (District 49)
Write a letter to the Asheville Citizen-Times
Write a letter to the Mountain Xpress
{For ScruHoo's background info on the story - 1, 2, 3, 4, 5}
{For Mtn. Xpress' background info here and update here}
{For Mountain Alliance's background info}
{For Canary Coalition's background info}