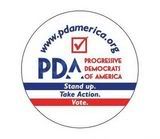 Breaking my own practice of steering clear of physical meetings of political organizations, today I dropped by a new group forming in the 4th district . . . a chapter of Progressive Democrats for America. I was struck by a few things as I listened to about two dozen people talk about why they were there.
First, I was one of the youngest people in the room, and I'm 56. It is both a testament to the participants who were there, and a worrisome sign about the future.

Second, there appeared to be grim and solid resolve for pushing Congress to cut funding for the War in Iraq. The vehicle is a bill promoted by progressives in Congress, HR 508, which is being presented as a comprehensive alternative to escalation.
I was encouraged by the energy in the room, despite my aversion to meetings. I have offered to post announcements and activities for the 4th District Chapter as they move forward - and I invited all the meeting participants to join us here in pursuit of a progressive agenda.
A
PS I wasn't able to stay for the follow-up meeting of GRIM, the Grassroots Impeachment Movement being pushed by Al McSurley. I'm all in favor of impeachment and think it's long overdue.